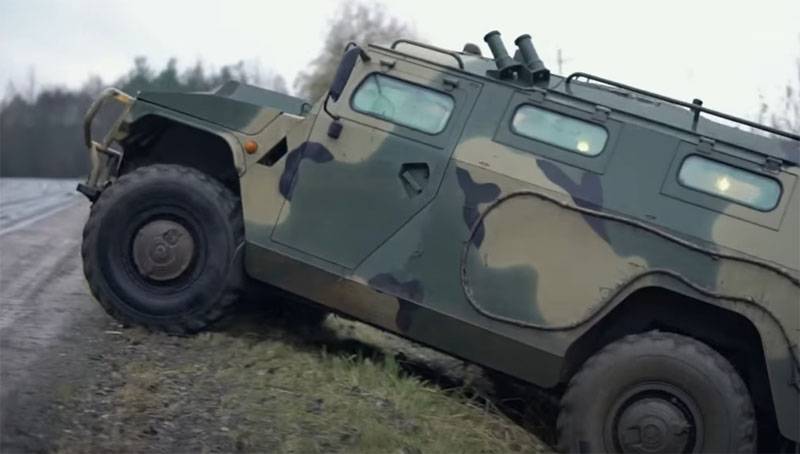 The Ukrainian media decided to distinguish themselves when submitting information that the RF Ministry of Defense signed a contract with the "MIC" for the development of armored vehicles, united into a single "light" Arrow family. Voennoye Obozreniye reported on the signing of such a contract the day before. The Military Industrial Company received an agreed terms of reference, according to which 2021 samples of light armored vehicles will be developed in 4.
Today, the Ukrainian edition of Defense Express, in a peculiar way, covers information about the order of the Russian Ministry of Defense. The Ukrainian portal, positioning itself as a military media, came out with material dedicated to the Strela armored vehicles being developed in Russia.
They decided to publish the material under the following heading: "The Russian army is once again looking for a replacement for the armored car" Tiger "stuck on the curb. Apparently, the mention of the border in such a context should delight Ukrainian "patriots".
The author claims that it is not the first time they are trying to replace the Tiger armored vehicle of the RF Armed Forces. It is stated that such attempts have allegedly been going on since 2012, when they tried to replace "Tiger" with "Wolf".
From the material of the Ukrainian resource:
In 2014, they tried to replace the Italian Iveco LMV-M65 with the localization of their production under the name "Lynx", but this possibility was blocked due to sanctions against the Russian Federation.
Here the Ukrainian author, with a statement about "sanctions", is clearly wishful thinking. The Ukrainian writer clearly ignored the statement of the Information Directorate of the Russian Ministry of Defense, which spoke about the reasons for the rejection of Italian armored vehicles:
Based on tests carried out from November 2013 to December 2014, the Lynx armored vehicle (IVECO) in the field of cross-country ability, armor protection and weapons was recognized as not fully meeting the requirements of the Russian military.
Earlier on "VO" there were materials that, during the tests, the Italian armored car could not cover the distance on a snowy road.