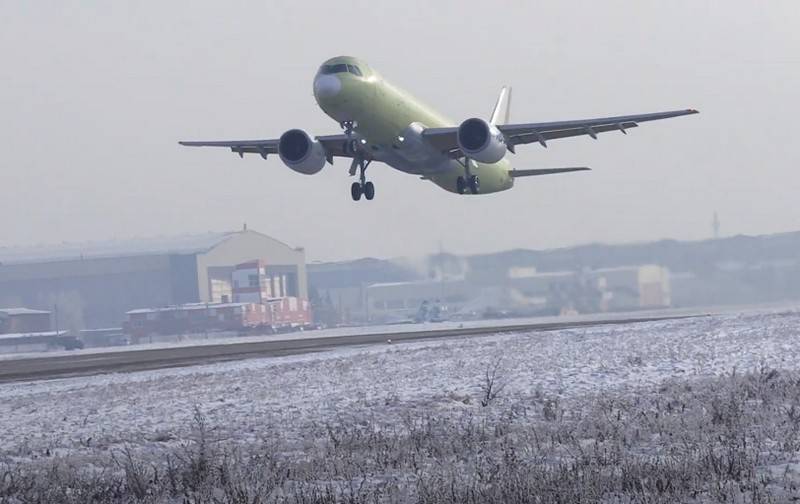 The newest Russian medium-range aircraft MS-21-310, equipped with Russian PD-14 engines, made its first flight. The press service of Rostec reports.
According to the report, the plane took off on December 15, 2020 from the airfield of the Irkutsk Aviation Plant, a branch of PJSC Irkut Corporation. The plane spent 1 hour 25 minutes in the air. The task of the first flight was to check the operating modes of the power plant, the stability and controllability of the aircraft, as well as the functioning of its systems.
MC-21-310 was piloted by a crew consisting of test pilots Vasily Sevastyanov, Andrey Voropaev and test engineer Alexander Soloviev.
This flight is the result of the unification of two most important programs of the civil aircraft industry in Russia - the MS-21 aircraft and the PD-14 engine. Through the efforts of scientists, designers, engineers, workers, a new generation liner is being created, which returns our country to the top league of the world
aviation
- said the general director of Rostec Sergey Chemezov.
It should be reminded that the rollout of the first prototype of the MS-21-310 passenger aircraft with Russian-developed PD-14 engines took place in early November. The aircraft was transferred to the flight test division of the Irkutsk Aviation Plant from the assembly shop. At the end of November it was reported that the plane was being prepared for the first flight, the systems were being debugged and tested.
The PD-14 turbofan engine has been under development since 2008. This is the first new Russian-designed aircraft engine over the past 30 years. The PD-14 two-circuit twin-shaft engine is capable of developing a thrust of up to 14 tons in take-off mode. The engine managed to pass full certification in Russia, and the European one is scheduled for the end of 2022.
The MS-21 will be supplied to Russian customers with PD-14 engines in the MS-21-310 modification, and for export - in the MS-21-300 modification with the American PW1400G power plants.