The Republic of Moldova is one of the few countries in the post-Soviet space in which citizens have the right to own a firearm
weapons
... Including short-barreled (revolvers and pistols).
The state provided such an opportunity to citizens by adopting in 1994 the law "On control over individual weapons."
Only state shops, which are structural divisions of the Ministry of Internal Affairs, received the right to trade in arms.
Citizens who possess weapons legally, but want to sell them for whatever reason, can do it in Moldova in two ways.
1. Submit it for sale to the gun store. But this is a long procedure. And it is expensive (store commission, VAT).
2. Look for a buyer yourself. And arrange the sale and purchase in accordance with the law.
A certain resident of Chisinau decided to take the second path. By the way, my former boss, leaving for permanent residence in Russia, did the same.
But today's salesperson turned out to be a great PR man. He wrote about his pistol in such and such a way that I could not pass by his ad.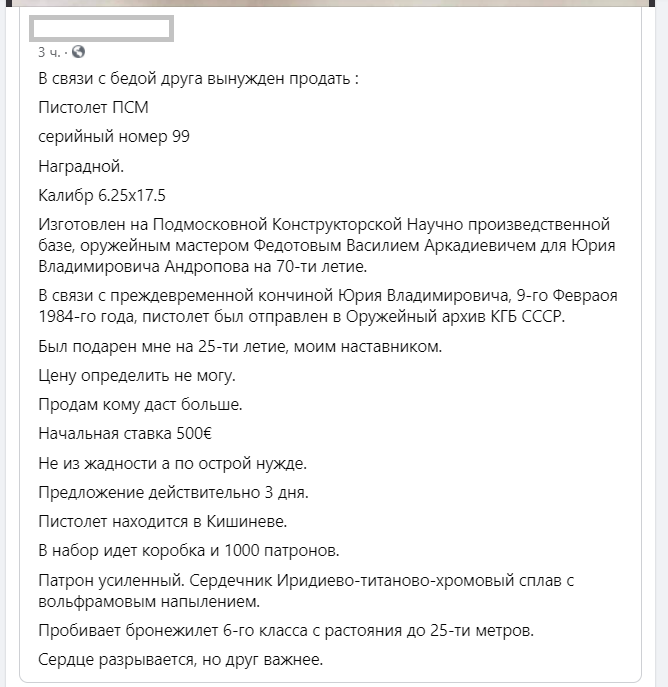 In the commentary, I politely expressed my doubt. At least regarding the year of release. He wrote, they say, an inscription in Latin at the time of Andropov - this is from the category of fantasy. And the Baikal brand, which belongs to IzhMekh, began to be used in the 90s.
Soon, the seller removed his ad. But I prudently took a screenshot.
Much surprises:
- Serial number.
- Place of manufacture.
- Lack of engraving (named after all).
- The caliber of the cartridge.
- Core material.
- The number of cartridges.
Well, Andropov's possible involvement with the KGB archive too.
What do you think about the pistol for sale? Could this exist in principle?
The seller insisted that he was offering "an item with
history
».