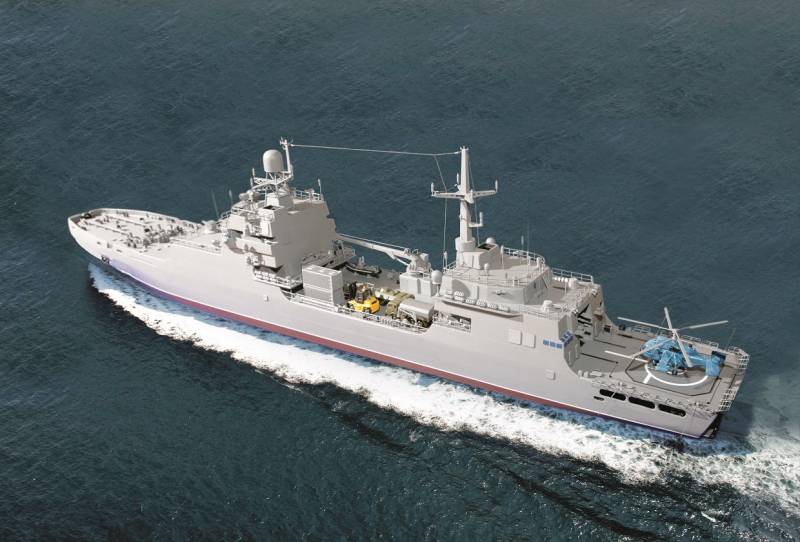 Among the four ships that the Russian Navy will receive in December 2020 is the Petr Morgunov Large Landing Ship (BDK). It will become the second representative of the project 11711 "Ivan Gren", as well as the second large landing craft built in a modern
stories
for the Russian Navy.
The portal Naval News reports.
The Northern Fleet received its first large landing ship in 2018. Large landing craft project 11711 "Ivan Gren" have a hull length of 135 meters and a displacement of 6,6 thousand tons. The ship is served by a crew of one hundred people. In addition, the BDK is capable of taking on board up to 300 marines, up to 12
tanks
or 36 armored personnel carriers.
According to the plans of the United Shipbuilding Company, the third and fourth ships of project 11711, which are planned to be transferred to the Russian Navy in 2024 and 2025, will have increased parameters. The hull length will increase by 15 meters, and the displacement will reach 8 thousand tons. They will be able to accommodate up to 12 helicopters and up to six Serna landing craft.
Discussing this information, the Ukrainian edition of Defense Express expressed doubts about the feasibility of such a plan. The Ukrainian press believes that Russia, weakened by Western sanctions, may not master the construction of four landing ships. And this is taking into account the fact that one of them has already been built the year before last, and the second should be completed from day to day.
Knowing the current deplorable state of the Ukrainian shipbuilding industry, one can understand the doubts of journalists from Nezalezhnaya. Of course, a shift in terms cannot be ruled out, but there is no doubt about the ability of Russian shipbuilders to fulfill the assigned tasks. After all, only in 2020, which can hardly be called simple, they built for the Naval
fleet
Russia has 40 submarines, boats, ships and vessels, as the commander-in-chief of the Russian Navy, Admiral Nikolai Evmenov, told the newspaper.