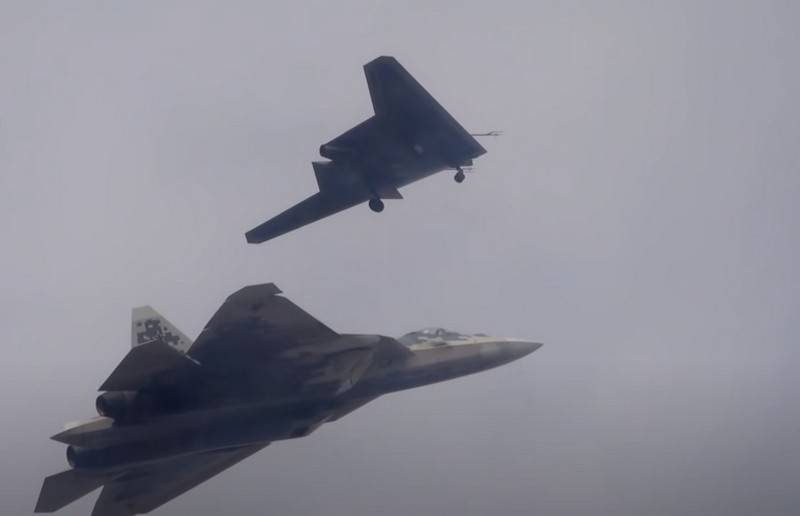 The Russian Ministry of Defense is accelerating work on the development of the S-70 Okhotnik strike drone. According to the Ukrainian edition of Defense Express, the Russian drone should take on the function of a "hunter" for the Turkish Bayraktar TB2 attack drones. The publication ponders how the Russian attack UAV is going to confront the Turkish "Bayraktar".
The Ukrainian newspaper writes that Russian President Vladimir Putin has demanded that work on the Okhotnik strike drone be accelerated. The reason for this was the alleged "complete failure" of Russian air defense systems in Nagorno-Karabakh, where Turkish drones were unhindered to destroy the anti-aircraft systems of the Armenian army.
(...) the systems "Tor-M2KM", S-300PS, 9K35 "Strela-10" and 9K33 "Osa" "do not see" drones Bayraktar TB2
- says Defense Express.
The publication emphasizes that the Russian-made anti-aircraft systems do not see the Bayraktar TB2, but the Turkish drone "practically with impunity" could hit Russian air defense systems.
This is probably why, according to Ukrainian "experts", Putin instructed to speed up work on the "Okhotnik", although according to the initial plans, the serial production of the Russian attack drone was planned to begin in 2024. And after the start of serial production of the S-70 "Okhotnik" will take over the function of hunting for Turkish drones.
The publication also compares the performance characteristics of the Russian and Turkish drones, but emphasizes that Russia can lie, therefore "it is hardly worth considering the statements of the Russians as truthful", since "Okhotnik" did not confirm its characteristics in a "real situation":
Fuselage length: Bayraktar TB2 - 6,5 meters, "Hunter" - 14 meters; wingspan: Bayraktar TB2 -12 meters, "Hunter" - 19 meters; maximum takeoff weight: Bayraktar TB2 - 650 kg, "Okhotnik" - 25 tons; combat load: Bayraktar TB2 - 150 kg, "Hunter" - 2,8 tons; maximum flight speed: Bayraktar TB2 - 222 km / h, Hunter - 1400 km / h; maximum flight range: Bayraktar TB2 - 150 km (when controlled from a ground station), "Okhotnik" - 5000 km.
And one more Ukrainian argument in favor of Bayraktar TB2 drones, which are already in service with the Armed Forces of Ukraine - Turkey has more than 100 Bayraktar TB2 UAVs at its disposal, while the Russian Okhotnik will not reach mass production soon.