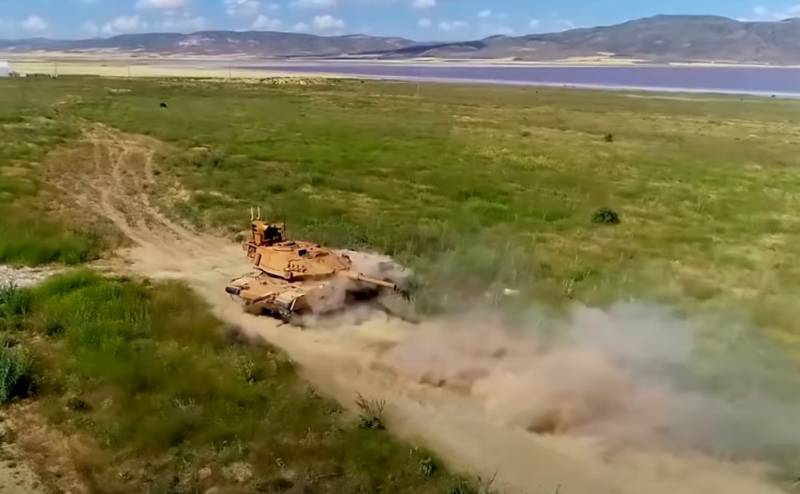 This year, the completion of the modernization of the entire fleet was announced
tanks
M60T held by the Turkish Armed Forces to the level of M60TM.
The transformation of the American M60 tank into a modern one
By upgrading our tanks with an active defense system, we have become one of the three countries in the world that have this capability.
- said the officials.
It is argued that unlike the M60T version, which was created with active participation of Israel, the new iteration is largely based on local components. The M60TM received not only KAZ, but also threat detection systems and OMS, which turned this MBT modification into a modern vehicle:
These tanks are among the most powerful vehicles in the world.
- officials note.
An upgrade program to the M60TM level was launched in 2016. It provided for the installation on tanks of a laser warning system LWR, remotely controlled combat modules RCW, a short-range surveillance system, Spall Liner [protection against shrapnel], position and orientation systems, auxiliary power plant, air conditioning equipment. In 2018, the program was adjusted and provided for additional equipment of the KAZ AKKOR PULAT forty tanks out of 169 to be modernized. According to Defense Turkey Magazine, this decision was directly influenced by the "Euphrates Shield" operation in northern Syria.
Frontline tests
The new tank has successfully completed qualification tests, which took place 2 km from the insurgents' deployment sites.
The improved tank was immediately transferred to the front line, and mass production gained momentum.
- noted in the press, which indicates that "the modernized M60 has become a force multiplier" in the modern theater of operations.
In July 2020, the contractor Aselsan announced the completion of the upgrade of 169 MBTs to the M60TM version. Of these, 73 units received the TEPES telescopic periscope. Rising to a height of 2,5 m, it is capable of video and infrared surveillance. 40 vehicles were equipped with KAZ AKKOR PULAT. The complex, consisting of 6 modules (2 on each side, one in front and one in the back), provides 360-degree protection against RPGs and ATGMs. If necessary, it is possible to turn off the operation of the KAZ (when activated, a cylindrical ammunition, on the tip of which a millimeter wave radar is located, leaves the nest and remains outside the body at a distance of 30-40 cm).
According to tank crews who participated in the operations Spring of Peace, Olive Branch and Shield of the Euphrates, the modernized Aselsan tanks were quite successful in opposing ATGMs. They also talked about increasing the operational capabilities of MBT in urbanized areas.
- Writes Defense Turkey Magazine.
As explained by officials, the program for the improvement of German tanks "Leopard" is close to the beginning of a full-fledged implementation, which is planned to be carried out taking into account the technologies developed for the local MBT "Altai".