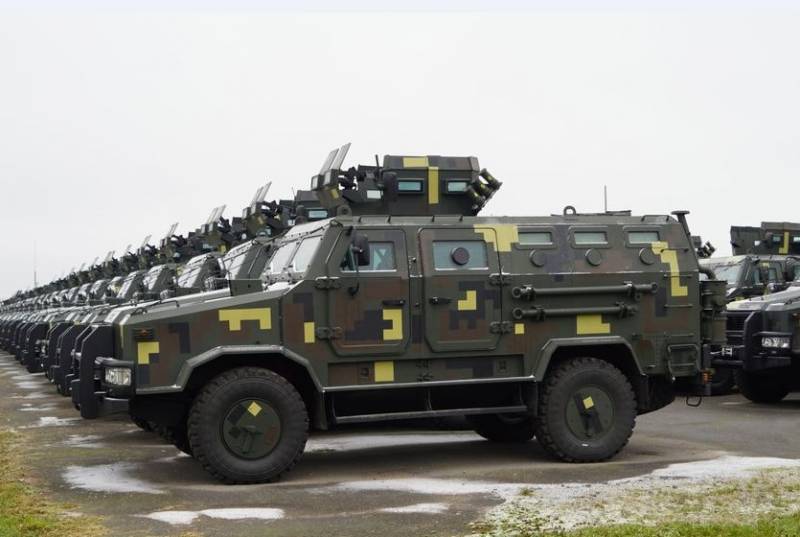 The private company Praktika, within the framework of the 2020 state defense order, shipped a batch of armored vehicles to the Ukrainian armed forces. The transfer of the Ukrainian armored combat vehicles (AFV) "Kazak-2" to the army was timed to coincide with the Day of the Ground Forces of the Armed Forces of Ukraine, which has been celebrated on December 1997 since 12.
According to the company, the order was completed ahead of schedule. More than 40 special armored vehicles were transferred to the troops.
We are especially proud that the overwhelming majority of components and components used for the manufacture of "Kazak-2" are domestic production and supplied by a dozen Ukrainian enterprises.
- said in the message of the press service of the enterprise.
They claim that 70 percent of the "Cossack-2" is a Ukrainian car.
In Ukraine, they are proud that they made an armored car consisting of 70% of domestic components, but not everything is clear and not everything fits together.
The armored vehicle began to be produced in 2014 on the chassis of the Italian truck Iveco EuroCargo 150 E28. Accordingly, the cars were equipped with engines made in Italy. The car also had Finnish armor, a Turkish ventilation system and other foreign components.
These armored vehicles were adopted by the Armed Forces of Ukraine in 2017, it was then that the first batch of "Cossack-2" was delivered.
At the beginning of last year, the cost of cars was 8,4 million hryvnia (22 million rubles). But by the end of 2019, the Armed Forces of Ukraine signed a contract with the company for 50 armored vehicles at a price of 9,4 million hryvnia (24,5 million rubles) each. When the manufacturer was accused of unreasonable rise in price, the Praktika company stated that the high cost was due to the growth of the dollar. They say that 80 percent of the equipment consists of foreign parts purchased for foreign currency.
And a year later, at the end of 2020, the same car, according to the manufacturer, consists of domestic components not by 20 percent, as at the end of last year, but by all 70 ...
Thus, one of the options can be assumed. Perhaps, in 2020, an economic miracle took place in Ukraine, for which Russian import substitution is not a candle. But somehow this is doubtful, especially given the pandemic and quarantine.
Well, if the enterprise really managed to achieve such amazing results, then what explains such a difference in price - one million hryvnia (2,6 million rubles) per unit of equipment? This gap in prices is very much like a banal pullback. Although, maybe this is not the case, and among the officials of the military department responsible for procurement, only crystal honest people and real patriots of Ukraine work.
But it's probably much simpler. The company simply created such a fundamental "import substitution", continuing, as before, to purchase components of foreign production.