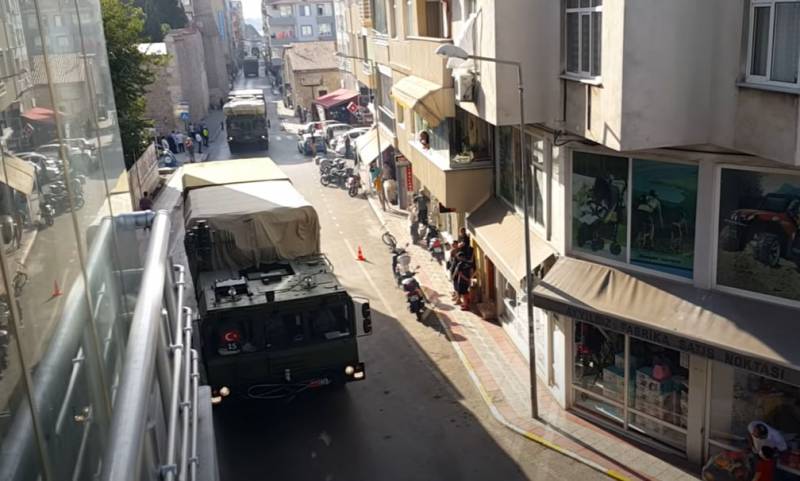 SAM S-400 on the streets of Sinop
A material appeared in the Greek press, in which the editorial staff talks about how Turkey conducted tests of the Russian S-400 anti-aircraft missile system. We are talking about the tests of the S-400 "Triumph", which took place not so long ago in the Sinop region, on the Black Sea coast of Turkey. Even during those test firings in Greece, they closely followed the actions of the Turkish NATO partner, stating that Turkey now "can threaten the safety of flights in the Eastern Mediterranean."
Now the Greek newspaper Pentapostagma claims that Turkish military engineers "wanted to reprogram the" friend or foe "system of the air defense systems purchased from Russia." There is no confirmation of these statements, but there is another statement - already that "in Moscow such Turkish attempts have caused an extremely negative reaction."
It is stated that Turkish engineers "tried to hack the electronic brains of the S-400 complexes to make them more relevant for their own use." The Greek publication claims that Ankara is trying to achieve "an increase in the functionality of the S-400 air defense system, since the Turks are not satisfied with the Russian export version with certain restrictions."
It is quite possible that the S-400 air defense systems delivered to Turkey really differ from those similar complexes that are in service with the RF Armed Forces. However, statements about attempts to "reprogram the" friend or foe "system without providing specific facts look more like another attempt on the part of Greece to draw attention to Ankara's purchase of arms from Russia and, if possible, try to prevent the strengthening of Turkey's military potential. In Greece, the growing Turkish military power is clearly viewed as a threat, although both countries are de jure NATO allies.