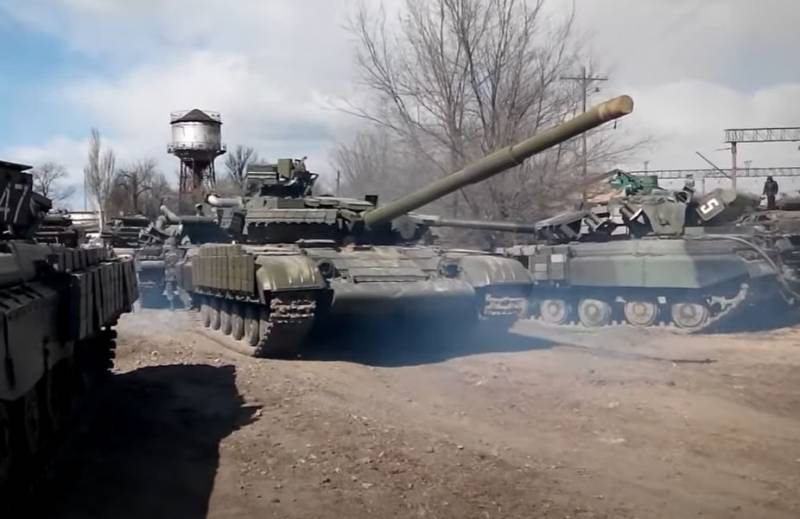 The Ukrainian press is discussing a letter that was written by the laureates of the state prize of the country, who at one time were engaged in developments at the KMDB ("Kharkov Design Bureau of Mechanical Engineering"). The authors of the letter state the multiple superiority of the Russian army over the Ukrainian in armored vehicles.
As noted, this comparison is "disappointing":
It speaks of the total superiority in armored vehicles of the Russian army over the Armed Forces of Ukraine.
The letter indicates that the number of modern and modernized
tanks
in the Armed Forces of the Russian Federation number in the thousands. In particular, the presence of numerous units of the T-72B3, T-90M, etc. tanks is indicated.
In general, this is about 12,5 thousand tanks.
In Ukraine, as noted, the number of modernized tanks is only dozens.
For example, tanks like T-84, BM "Oplot", T-80BV, T-80UD - up to 45 units on average.
Further, the ratio of the effectiveness of certain tanks is indicated. In particular, the probability of winning in a T-64B tank duel against a T-72B tank is 61%, a "Ukrainian" tank for a Russian T-90 - no more than 42%.
From the letter:
The probability of winning the T-84 tank over the T-80UD in the duel version of the battle is 0,56. Thus, the intended use by the Russian Federation of up to 950 tanks will have catastrophic consequences for the armored units of the Armed Forces of Ukraine in the medium term.
It also indicates the ratio of armored personnel carriers, infantry fighting vehicles and other similar armored vehicles in the RF Armed Forces and the Armed Forces of Ukraine. According to Ukrainian employees of KMDB, this ratio is approximately 7,5 to 1.
Further, in the letter of the laureates of the Ukrainian State Prize, the steps that need to be taken "to reduce the gap with Russia to a minimum" are named. In particular, they pointed out the need to create a new combat module, "which would increase the likelihood of winning in a tank duel."
Other recommended steps that, according to the authors of the letter, Ukraine should take by 2023: to establish mass production of armored vehicles at the level of 50 units per year, to create a remote-controlled strike complex carrying ultra-light weapons, to create a floating tracked infantry fighting vehicle of the middle weight category with modifications its modifications, to carry out development work on the creation of 4-stroke diesel engines with a capacity of up to 600 hp.
By 2027, it is proposed to design a new Ukrainian tank, create a heavy infantry fighting vehicle for conducting battles in urbanized areas.
The letter also indicates the need to develop and create new ammunition for the needs of the Armed Forces of Ukraine, the importance of creating in the future an automated command and control system of the "company-battalion" level.