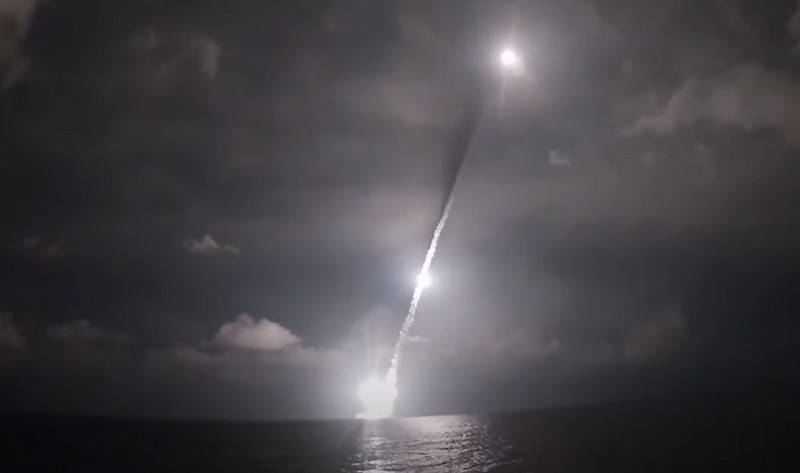 Nuclear-powered missile submarine strategic cruiser (APRKSN) of project 955 "Vladimir Monomakh" Pacific
fleet
RF fired a salvo of four Bulava ballistic missiles. This was reported by the press service of the Ministry of Defense.
According to the report, the Russian Borey, while in the Sea of ​​Okhotsk, fired four Bulava missiles from a submerged position, hitting targets at the Chizha training ground in the Arkhangelsk region. The Ministry of Defense noted that the crew of the submarine cruiser fired a salvo of missiles for the first time.
A salvo launch of missiles was carried out from a submerged position from the Sea of ​​Okhotsk at the Chizha training ground in the Arkhangelsk region. The flight of the Bulava ballistic missiles took place in the normal mode. According to the confirmed data of objective control, the missile warheads successfully arrived in the specified area of ​​the Chizha battlefield
- said in a statement.
"Vladimir Monomakh" is the second serial submarine of the project 955 "Borey", is part of the 25th submarine division of the Pacific Fleet based in Vilyuchinsk. Laid down at Sevmash in 2006, launched in 2012, transferred to the Navy in 2014. Belongs to the fourth generation of submarines. The main armament is 16 R-30 Bulava intercontinental ballistic missiles.
The R-30 "Bulava" ICBM is a three-stage solid-propellant missile designed to arm promising nuclear submarine strategic missile carriers of the Borey project. Range - up to 11 thousand km, launch weight - 36,8 tons, throw weight - 1,15 tons. The missile is capable of carrying six warheads of individual guidance.