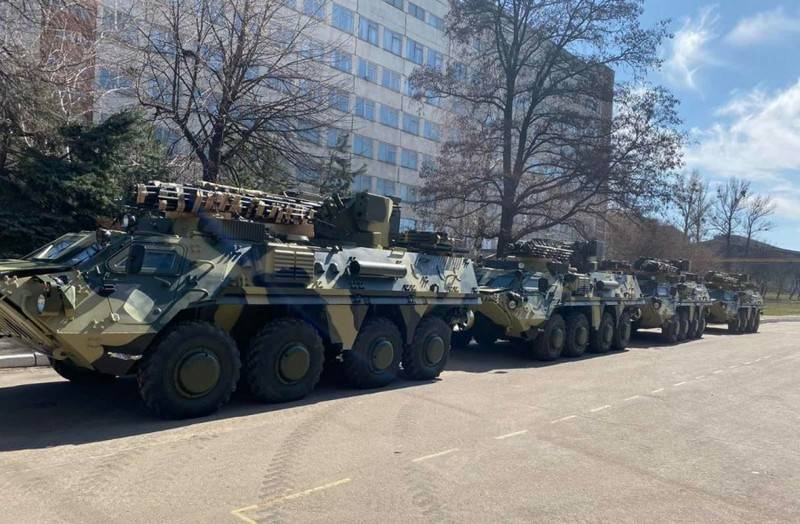 The National Guard of Ukraine received eight armored personnel carriers BTR-4E, supplied by the Kharkiv Design Bureau of Mechanical Engineering. Morozov (KMDB). According to the Ukrainian Military Pages, the equipment was delivered with a delay of more than two years.
The contract for ten BTR-4Es for the National Guard of Ukraine was signed in October 2017 with the delivery of all armored personnel carriers by August 2018, however, only two armored personnel carriers were delivered by that date. The terminated contract began to be fulfilled only in August 2020, after the delivery of 45 BTR-4E units to the Ukrainian Armed Forces as part of an overdue contract in 2016, the execution period of which was extended until August 31, 2020 after Zelensky's intervention.
Meanwhile, it became known that the Ukrainian Ministry of Defense has signed a new contract with the KMDB for the supply of another 77 armored personnel carriers BTR-4E and vehicles based on it. The new agreement provides for the delivery of 75 BTR-4E, one commander's BTR-4K and one armored recovery vehicle BREM-4RM during the year.
Under the contract, 15 BTR-4Es were ordered in a linear version and 60 in a "marine" version with additional floats. Such an armored personnel carrier was recently tested by landing in the water from the landing boat of the Ukrainian Navy "Svatovo". Presumably, all 60 "naval" BTR-4Es will go into service with the Ukrainian marines.
The BTR-4E was developed by the State Enterprise "Kharkov Machine-Building Design Bureau". Development began in 2002, the prototype of the BTR-4 was first demonstrated in 2006. Under the designation BTR-4E in July 2012, the vehicle was adopted by the Ukrainian army. In 2016, the armored vehicle was tested on the water. It is designed to transport soldiers of mechanized units and fire support in battle.