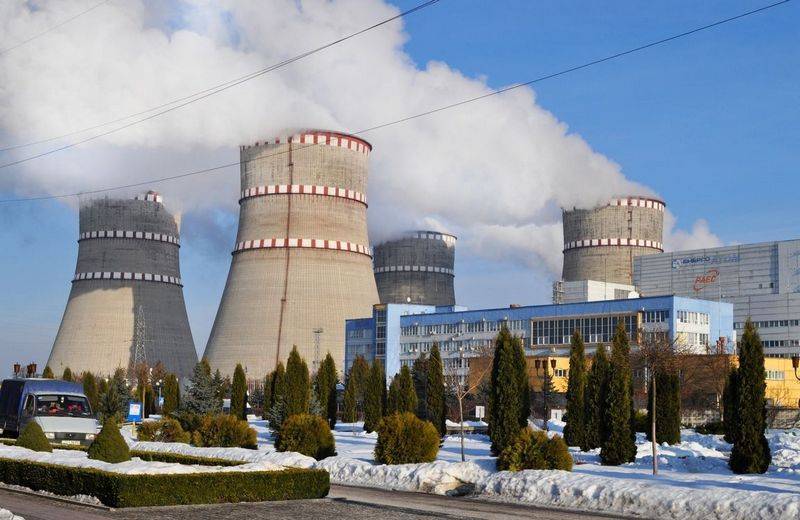 In Ukraine, the first power unit of the Rivne nuclear power plant was disconnected from the network. According to the press service of the Ukrainian nuclear power plant operator, Energoatom, the shutdown occurred due to the activation of automatic protection.
On December 01, at 43:02 (43:1 Moscow time), power unit No. 1 of the Rovno NPP was disconnected from the network. The shutdown occurred as a result of automatic protection triggered upon shutdown of the unit's turbines. There were no violations of the limits and conditions of safe operation. Now the reason for the shutdown of power unit No. XNUMX is being investigated
After the protection was triggered and the first unit shut down, only the second power unit of the NPP remained in operation, the third and fourth power units are under scheduled repair. It is noted that the radiation, fire and environmental status on the NPP territory did not change and is within the normal range.
Rivne NPP is the first nuclear power plant in Ukraine and the only plant equipped with power units based on the first reactors of this series VVER-440 (V-213). At the nuclear power plant, protection has already been triggered several times, turning off power units. The third power unit of the nuclear power plant underwent a major overhaul in 2016, which was required, according to some Ukrainian media, after loading the nuclear fuel of the American company Westinghouse.
It should be noted that currently there are four nuclear power plants in the nuclear industry of Ukraine - Khmelnytsky, Rivne, South-Ukrainian and Zaporozhye, in total there are 15 power units on them. The share of nuclear energy in the country's energy balance is about 55%.