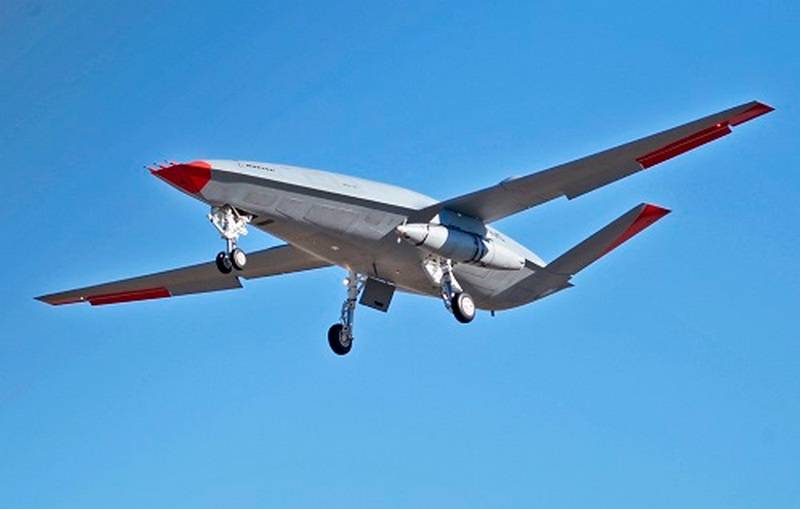 The prototype of the MQ-25 Stingray deck-mounted unmanned aerial vehicle with the installed refueling equipment has begun flight tests. This was reported by the Boeing concern.
According to the report, the tests were carried out jointly by the specialists of the concern and representatives of the US Navy, in whose interests the drone is being created. The first flight of the MQ-25 Stingray lasted 2,5 hours, during which time the specialists of the concern studied the effect of suspended refueling equipment on the aerodynamics of the drone.
The fact that the drone-tanker MQ-25 Stingray received refueling equipment was reported at the end of July this year. Boeing installed an overhead container with a hose-cone system on a pylon under the left wing console. After that, the drone proceeded to ground tests. At the same time, the concern reported that the first flight tests would begin this fall.
At the first stage of flight tests, it was supposed to check the effect of the suspended container on the aerodynamic and maneuverable characteristics of the drone, and then conduct tests with refueling of other aircraft.
In 2018, Boeing won a $ 805 million contract to build the first four MQ-25As. On April 2, 2020, the US Navy signed an additional contract with Boeing for the supply of 3 more MQ-25A drones. All of them will be used in demonstration and evaluation tests.
The US Navy plans to purchase 72 Stingray units, allocating a total of about 13 billion dollars for their purchase. This will ease the load on the fleet F / A-18F Super Hornet, refueling other aircraft. The Pentagon intends to put into operation the first drone MQ-25A in 2024.