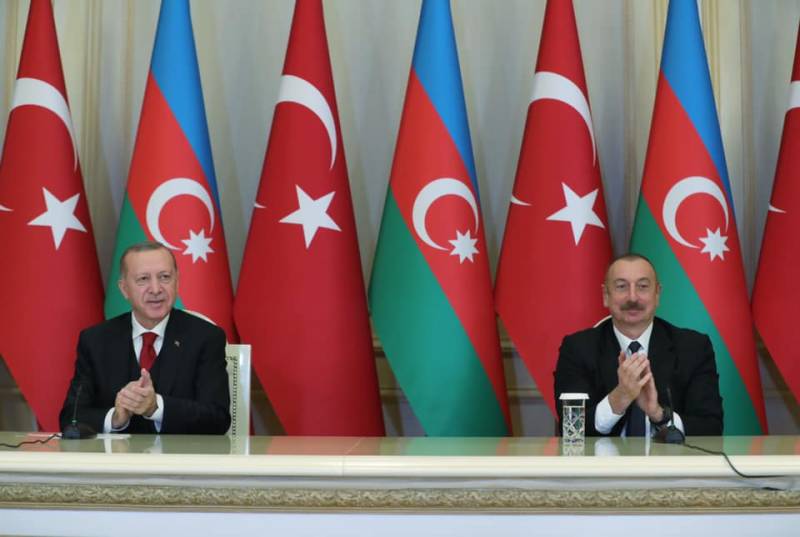 Turkish news agencies are disseminating the speech of President Erdogan, who on the eve of the delegation attended a military parade in Baku and held a personal meeting with Ilham Aliyev. In his speech, the Turkish president criticized the actions, or rather the "inaction", of the Minsk Group for resolving the situation in Nagorno-Karabakh.
Recep Tayyip Erdogan:
What has the Minsk Group been doing all these years? Why did the issue of the Karabakh problem take so long? But this group includes the strongest countries in the world.
According to the Turkish President, "the negotiations with the Russian President played an important role."
Turkish leader:
I can say with confidence that Mr. Putin's positive approaches to solving the problem helped to move the Karabakh issue off the ground in a positive direction.
According to Erdogan, now the region needs to create a platform for peace and development in the South Caucasus. This platform, according to Ankara, should include all regional powers: Azerbaijan, Armenia, Georgia, Russia, Iran and Turkey itself.
Erdogan:
We offer Armenia to join this process. We could close the doors to Armenia, stop even offering dialogue, but we are committed to peace, stable development and security of the region.
Then Erdogan stated that "Turkey has no grudge against the people of Armenia."
Turkish President:
More than 100 thousand ethnic Armenians live in our country today. So let's do everything for the world to triumph. Let's take steps towards each other. We are ready for this.
After Erdogan attacked France with criticism. In his words, the decision of the French Senate with a resolution on the recognition of Karabakh as a sovereign state "looks unacceptable."
Erdogan:
This is not a constructive decision. Why are you doing this if even Pashinyan (Karabakh) does not recognize it?