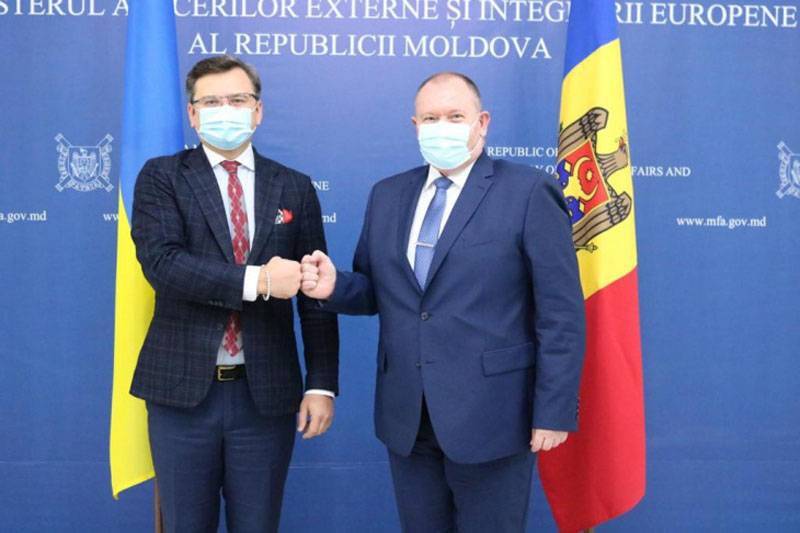 In Ukraine, they said that "they are seriously concerned about the military presence of Russia on the territory of the neighboring Republic of Moldova." This statement was made by the head of the Ukrainian Foreign Ministry Dmitry Kuleba during his trip to Chisinau.
According to Mr. Culeba, Kiev "has supported and will continue to support the territorial integrity of Moldova." Also, as stated by the Minister of Foreign Affairs of Ukraine, his country will insist on the withdrawal of the Russian military contingent from Transnistria.
Maia Sandu made a statement on the need to withdraw Russian peacekeepers from the banks of the Dniester a few days ago. According to her, the Russian military should be replaced by "civilian representatives of the OSCE."
Maia Sandu added that "Transnistria is an integral part of the Republic of Moldova".
Russia, in turn, raised the issue of gas debt. We are talking about gas supplies to the territory of the Pridnestrovian Moldavian Republic. And after that in Chisinau, for some reason, they stopped declaring that they consider the PMR a part of Moldova. On the other hand, Ukraine decided to intercept the baton in the person of its Foreign Minister, Mr. Kuleba.
Tiraspol, in turn, stated that the presence of Russian peacekeepers ensures peace in Transnistria and, by definition, is not a problem.
Recall that the Russian military provides, among other things, also the protection of warehouses with
weapons
and ammunition, which are one of the largest arsenals in the post-Soviet space.
Kuleba, commenting on the results of the elections in the Republic of Moldova:
We welcome the free, democratic and European choice of the Moldovan people
According to the head of the Ukrainian Foreign Ministry, he invited Maya Sandu to take part in the work of the "Crimean Platform initiated by Kiev."