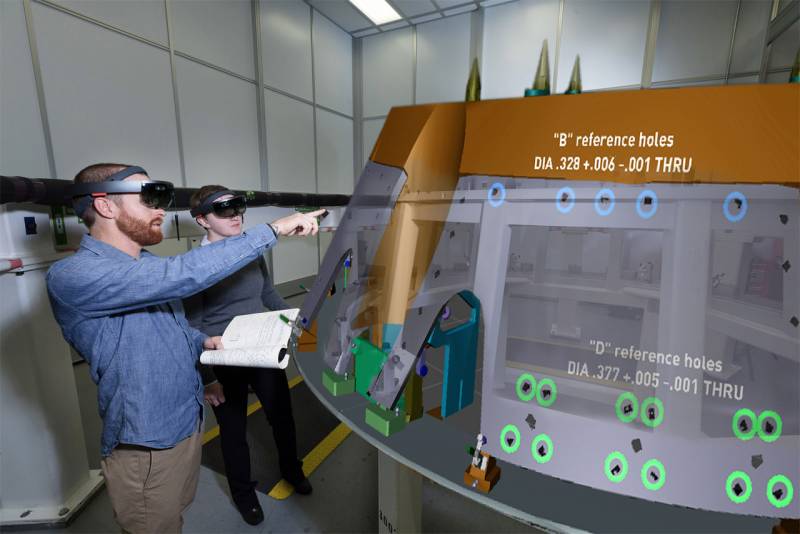 American developers
weapons
and military technology declare revolutionary innovations that allow creating new products in the military-industrial complex. Lockheed Martin, one of the largest arms development companies in the United States, reports on developments using augmented reality technologies. Today, the American industrial giant uses these technologies from assembly shops to research laboratories.
Lockheed Martin:
Digital design using augmented reality techniques allows you to create an integral chain of system design, track its "life cycle" until the direct creation of equipment "in metal". It also helps to carry out maintenance at all stages of operation.
The company notes that the digital counterparts of military equipment being created, including virtual models of fifth-generation F-35 fighters, allow for so-called machine learning, create long-term forecasts for optimal maintenance, and identify areas of greatest stress.
In particular, it reported the use of the industrial program StarDrive, which integrates advanced CAD and product lifecycle management tools into the operations of the enterprise in the field of aeronautics. This allows the widespread use of automation and robotization in the production of military equipment directly, based on both 3D models and the augmented reality methods mentioned.
Augmented reality allows robotic assembly lines to be customized to automatically work with F-35 structural elements as accurately as possible.
It is noted that over time, the work is planned to be fully transferred to 5G networks to transfer huge amounts of data in an extremely short time in order to increase the efficiency of production lines and achieve timely adjustments.
Pilot training process using augmented reality: