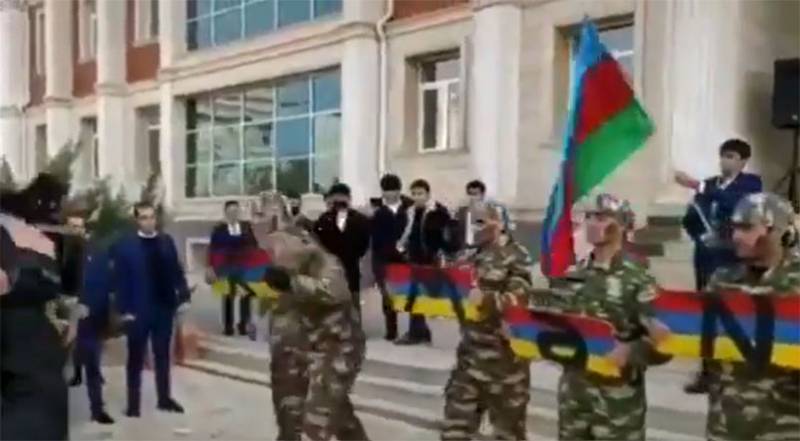 The training of the military parade, which is scheduled for today, December 10, continued in Azerbaijan. During the parade, as Voennoye Obozreniye has already reported, samples of captured military equipment will be shown, including army vehicles, armored vehicles, and self-propelled artillery mounts. The day before, they were taken to the center of Baku on car platforms to be shown to the audience today.
The military parade will also be attended by a Turkish delegation led by Turkish President Recep Tayyip Erdogan.
Apparently, Azerbaijan is not talking about the observance of quarantine measures in connection with the pandemic in terms of holding a mass event.
Against this background, a video (the date of the shooting is not reported) attracts attention, in which the Azerbaijani servicemen demonstrate their martial arts skills to the cheers and applause of the audience. In the course of such a demonstration, they smashed with their heads the plates (possibly slate) on which the flag of Armenia was depicted. The colors of the flag do not quite coincide with what is shown on the plate, but the inscription puts everything "in its place". The word "Armenia" in the Azerbaijani language was formed from the plates.
The plates were broken. During this action, people were standing behind, on the steps of the building, waving the flags of Azerbaijan and Turkey.
Apparently, these are demonstration performances at the walls of one of the schools.
These actions of the Azerbaijani military caused a mixed reaction on the network.
Strange occupation, but what do they want to prove by this? pic.twitter.com/QlANhxC77G

- Decanter is impolite (@ art100780) December 9, 2020