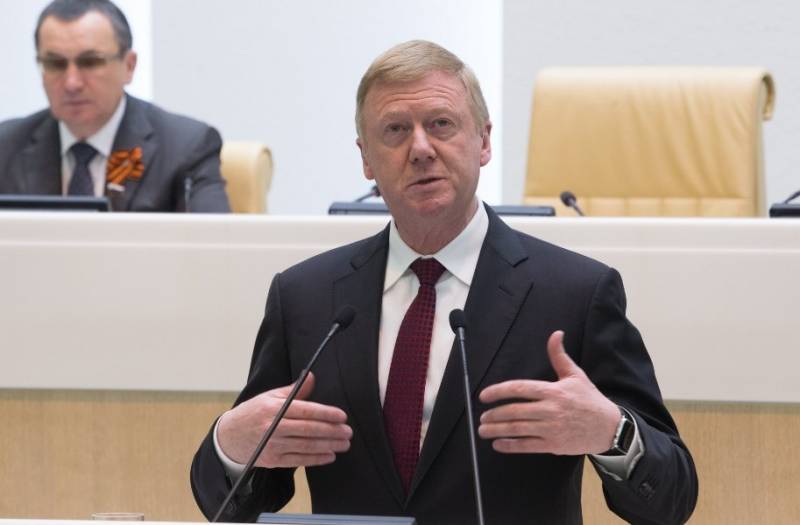 Once Anatoly Chubais was considered the main Russian reformer, then he became an inconspicuous official with liberal views, and then lost his position as head of Rusnano, which he held for the past 12 years. "His career is quite fluid after all."
Stefan Scholl discusses this topic in the Frankfurter Rundschau newspaper.
The author assumes that in the future the politician will be referred to a geographic or sectoral periphery, an appointment to another not very important and significant position related to some economic project. In fact, according to Scholl, the previous work was a kind of sinecure, which had an exclusively symbolic meaning.
This work was for him an honorable and well-paid occupation before retirement.
- said Dmitry Travin, head of the Center for Modernization Research at the St. Petersburg European University.
He suggests that the Russian president is choosing such high and unhindered positions for Chubais out of gratitude. For the fact that when in 1996 Putin, who was then St. Petersburg's vice-mayor, lost the elections, Chubais put him in a job in Moscow, in the presidential administration.
The German press named Anatoly Chubais, who in the 90s was a key political figure, the main scapegoat in Russia. After all, he can always be blamed for past miscalculations that have led or could lead to today's economic turmoil. This "good tradition" was started by Boris Yeltsin, who repeatedly fired Chubais from key positions. But Chubais immediately found himself in other positions ...
Anatoly Borisovich was given either the position of chief for the development of the Arctic, or for renewable energy sources. In general, according to Scholl, the former "young reformer" has been pushed somewhere further to the periphery from the center of key decision-making. But Chubais, as you know, has been appointed to the post of special representative for relations with international organizations. Vladimir Zhirinovsky, commenting on Chubais's new position, believes that this is how the ex-head of Rusnano can "leak abroad" the information he possessed as the chief "nanotechnological" manager.