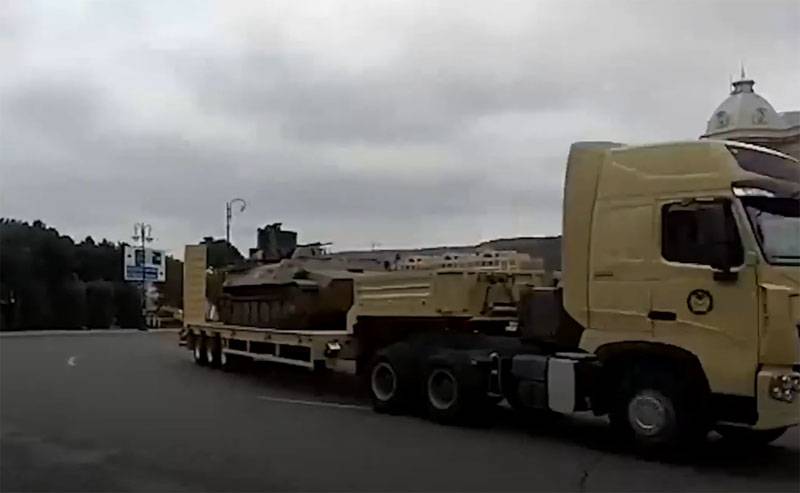 Military equipment is being delivered to the center of the Azerbaijani capital, which will participate in the military parade. The parade, as previously announced by the Azerbaijani leadership, will be held in honor of the victory in the Patriotic War. This is now the official name for the armed conflict in Nagorno-Karabakh. The parade itself is referred to in Baku as a victory parade.
The footage shows that captured equipment, which previously belonged to the Armenian troops and which is now intended for display at the victory parade, is also being delivered to the center of Baku.
Trophy UAZs, some armored vehicles of the army of the unrecognized Nagorno-Karabakh Republic were delivered to the capital of the republic on automobile platforms,
Tanks
, ACS. Many of these pieces of equipment can be restored, as they did not receive any special damage.
In addition to captured equipment, equipment of the Azerbaijani armed forces will also be involved in the parade.
Automobile traffic in the central part of Baku in connection with the transportation of military equipment in preparation for the military parade is blocked.
The President of Turkey is arriving in Azerbaijan today. In addition to President Erdogan and his wife, the Turkish delegation includes such officials as Foreign Minister Mevlut Cavusoglu, Minister of Communications Fahrettin Altun, several representatives of the top of the Party of Harmony and Development, etc. It is planned that the Turkish delegation will attend a military parade in the Azerbaijani capital.
Departure of Erdogan to Baku: