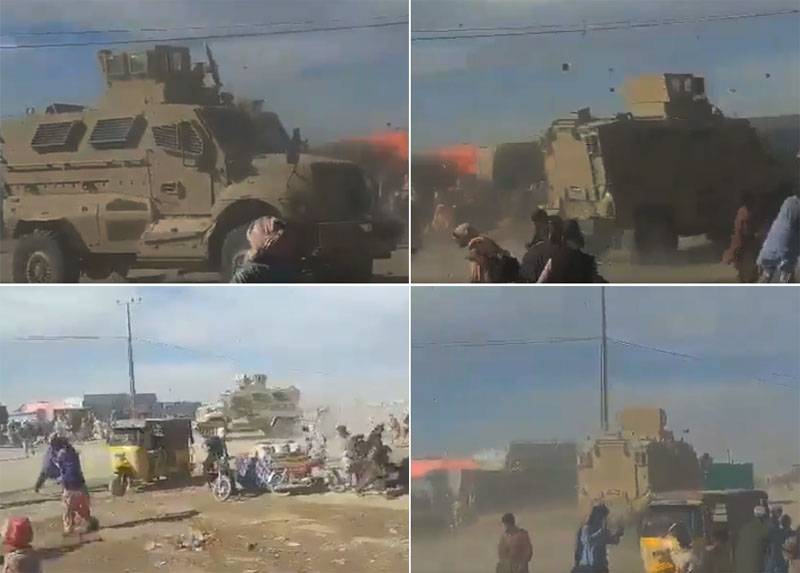 Some time ago, US President Donald Trump announced the withdrawal of the American contingent from Afghanistan. According to him, the withdrawal of the main part of the troops should be done by the end of 2020. According to some reports, the delay in the withdrawal of the American military became the reason for the change of the head of the Pentagon - Mark Esper lost his post a few weeks ago.
In Afghanistan itself, Trump's withdrawal initiative has been treated differently. Moreover, if in government circles they are trying to extend the American military presence in the country, then in opposition circles and among ordinary Afghans the opposite opinion prevails: the sooner the troops of the United States leave the country, the better it will be.
In this regard, a video that appeared on the network attracts attention. It shows how ordinary Afghans "meet" an American armored vehicle (MRAP) on the square of one of the cities. Stones, pieces of concrete, empty plastic cans are flying into the armored vehicle - in fact, everything that the locals found at hand. The armored car, having made a circle in the center of the square, stops and then leaves the territory amid the jubilation of the crowd.
At the same time, it has been suggested that this American MRAP might not belong to the US Army. This is indirectly indicated by the license plate, which is visible on the front of the military equipment. In particular, it is noted that the American contingent does not usually use single army vehicles. If the American-made armored vehicle belongs to the Afghan security forces, then the locals could either confuse it, or with a "rockfall" expressed their opinion against the Afghan security forces trained by the Americans.
An inhospitable meeting of the American MRAP by Afghans pic.twitter.com/lBXeohFY12

- Volodin-Topwar (@VolodinTopwar) December 9, 2020
Several comments to the video.
Those in the armored car are 100% perplexed: Why don't they like us, didn't we save them?
I feel sorry for these people. They still live in the Middle Ages.
Anyway, meeting an American car was inhospitable