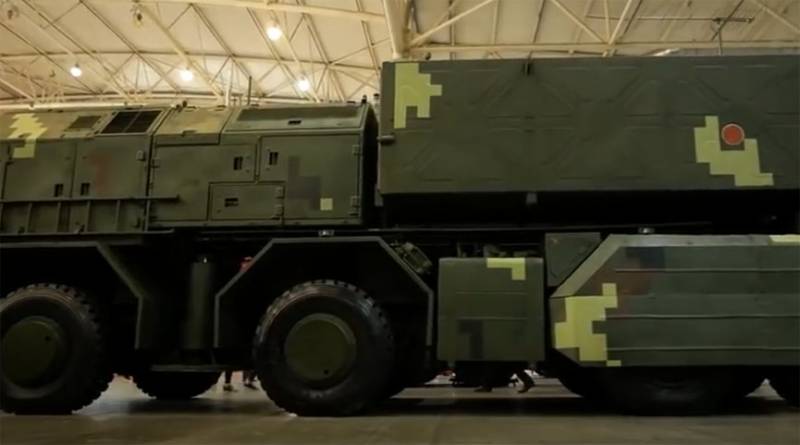 The Ministry of Defense of Ukraine announced that next year they intend to resume funding for one of the programs for the creation of missile weapons.
Oleksandr Mironyuk, Deputy Minister of Defense of Ukraine, shared his views on a possible resumption of funding. According to him, plans to create Ukraine's own operational-tactical missile system have not disappeared.
According to Mironyuk, we are talking about the Sapsan OTRK project, which "can be implemented at the facilities of Yuzhnoye Design Bureau.
At the same time, the Deputy Defense Minister made the following remark:
We hope that in 2021 we will find opportunities to finance this medium-range OTRK project. If funding can be resumed, then in the near future we will receive the latest complex for the Ukrainian Armed Forces.
At the same time, Mironyuk said that he hopes for the following: ultimately the Ukrainian Sapsan will surpass the Russian Iskander OTRK.
It is not reported what exactly, in fact, non-existent, "Sapsan" will surpass the Russian operational-tactical missile system. But Mironyuk added that, in his opinion, the enterprise in Dnipro (the Ukrainian version of the name of Dnipropetrovsk) "today is in such a state that it can cope with the task."
According to the latest information, only at the next stage of the implementation of the Sapsan OTRK project, the Ministry of Defense requires about $ 300 million.
Several years ago in Ukraine they declared that they were "ready to create an OTRK with Saudi funding." First, its promising range was indicated at 280 km, then - already at 500 km.
In 2018, a launcher was created, and several factory tests of the missiles being created were conducted. But then it turned out that there was not enough funding. The project was frozen.
Ukrainian video from 2018 about OTRK "Sapsan":