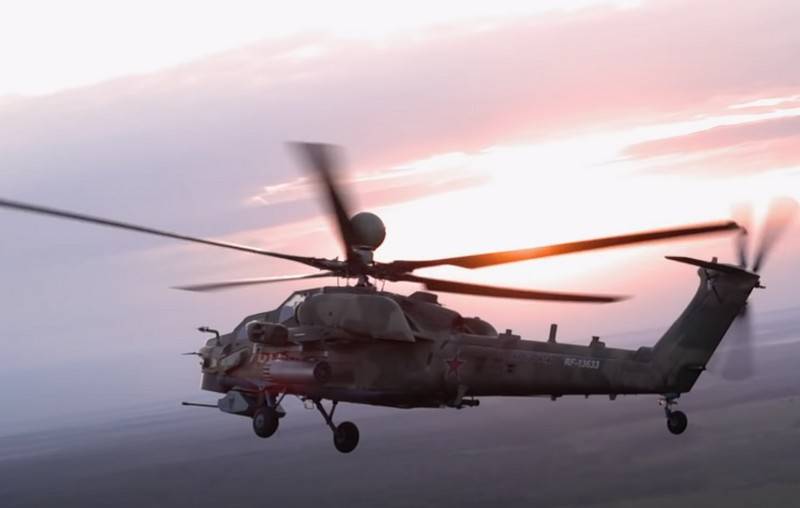 The newest promising military helicopters Mi-28NM "Night Hunter" and Mi-26T2V will be tested at high altitudes in the Elbrus region. Reported by
"News"
with reference to sources in the Ministry of Defense.
The Ministry of Defense has approved a test program for the Mi-28NM and Mi-26T2V helicopters in the Elbrus region. Testing of helicopters will begin before the end of the year, test vehicles will be relocated to Nalchik, the Mil and NI Kamov National Helicopter Engineering Center has already signed the relevant agreements.
In total, three helicopters will take part in the tests: the first prototype Mi-28NM OP-1, Mi-28NM with hull number 71 and Mi-26T2V with hull number 157. The first Mi-28NM has already been tested in mountainous terrain, including in Syria, but not tested in winter highlands.
It is noted that this is not the first time that the Elbrus region has been used for testing helicopters; some samples of Russian Helicopters holding equipment have already been tested there, including Ansat and Mi-171A2 helicopters.
The Mi-28NM is a highly efficient all-weather attack helicopter of a new generation, designed to perform a wide range of missions. The machine was created taking into account the combat experience of using a helicopter in Syria. At the end of September this year, Andrey Boginsky, General Director of the Russian Helicopters holding, announced the start of serial production of the upgraded Mi-28NM helicopters.
The upgraded Mi-26T2V helicopter differs from the base model Mi-26 in the presence of an integrated complex of onboard radio-electronic equipment, a digital flight system installed by the Vitebsk airborne defense complex. With a maximum take-off weight of up to 56 tons, the helicopter can lift 20 tons of cargo into the air, both inside the cabin and on the external sling. The Ministry of Defense intends to purchase at least 10 Mi-26T2V.