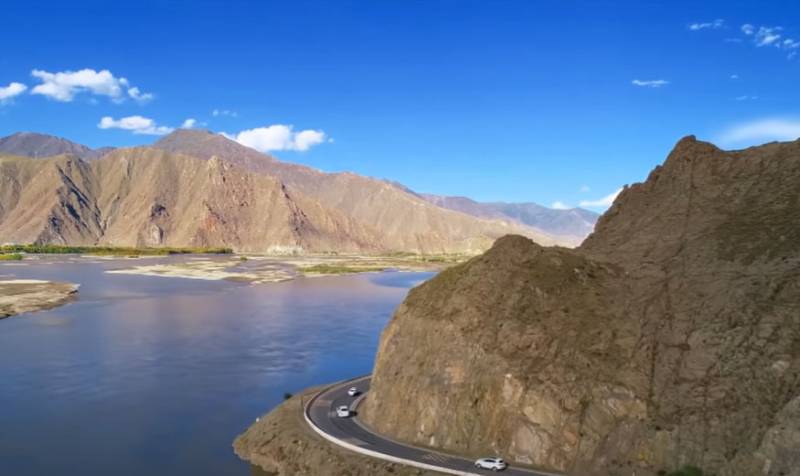 The Indian press has announced the threat lurking in China's grand new plan in Tibet. For example, The Tribune writes that China "threatens the security of India with its new project."
We are talking about a project to create a large dam on the Yarlung Tsangpo River, which in India is called the Brahmaputra (one of the largest tributaries of the Ganges).
China is going to develop an energy complex in the east of the country. The construction of the "super dam", as it was called in the Indian press, is part of the new program. The program of the 14th five-year plan of the PRC (2021-2025) includes the construction of a hydroelectric power station on the Yarlung Tsangpo River (Brahmaputra).
In India, it is indicated that if a new dam appears in China, then the Chinese side will gain full control over the Brahmaputra in the sense that it will itself determine when to discharge water and fill the reservoir. It was noted that for India, where everything is already complicated with drinking water, this can lead to the fact that tens of millions of people may be left without fresh water at certain times of the year.
India is particularly displeased with the fact that China is not yet ready to discuss the issue of building a dam with the Indian side.
Indian media also appeal to environmentalists, claiming that the construction of the hydroelectric power station will lead to the flooding of forests with rare species of animals.
From an article in Indian media:
You also need to take into account the high seismic activity in this area. It is difficult to imagine the scale of the catastrophe in the event that an earthquake destroys a Chinese dam.
Other media outlets noted that the construction of a hydroelectric power station is also a reason for China to transfer additional army units to the borders of India, which may initially be employed in the construction process, and then remain on a permanent basis.