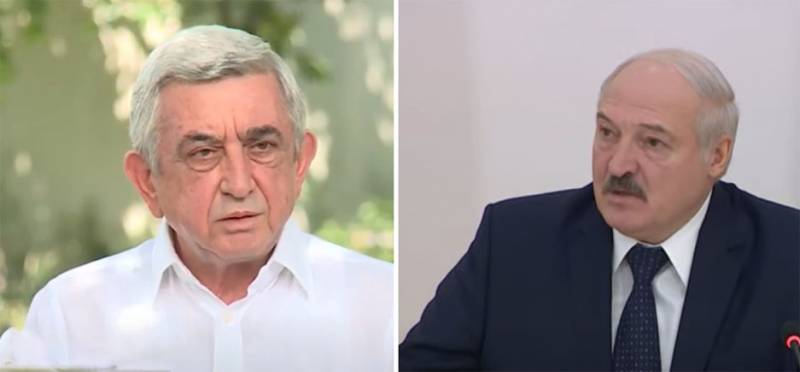 A recording of the conversation appeared on the network, which is positioned as a fragment of negotiations between the President of Belarus Alexander Lukashenko and (at that time) the head of Armenia Serzh Sargsyan. On the recording you can hear voices that are really very similar to the voices of Sargsyan and Lukashenka. The conversation was about seven regions that adjoined the unrecognized Nagorno-Karabakh Republic and acted as a kind of security buffer for NKR and Armenia.
These areas, on the basis of previously reached agreements in the format of the Minsk Group, Armenia was supposed to transfer to Azerbaijan and withdraw troops from there (long before the events of autumn 2020). But Armenia was in no hurry with this program. As a result (after the hostilities that ended on November 9, 2020), the areas came under Azerbaijani control.
On the recording, one can hear that in a voice "similar to the voice of Lukashenka," it was announced that the President of Azerbaijan Ilham Aliyev offered $ 5 billion to Yerevan for the transfer of seven regions.
Lukashenka's voice suggests the interlocutor to take this money and give the regions to Azerbaijan. In turn, the "voice of Sargsyan" declares that it is ready, in turn, to give money to Aliyev so that he would give up seven districts.
From the conversation in the voice of Lukashenka:
Your position is weak. You do not want to give up the regions, because you are afraid that Azerbaijan will start a war. And I say that peacekeepers will guarantee peace there. We're not going to capture these areas ...
From the conversation in Sargsyan's voice:
I can't go for it. 5 thousand of our citizens died there.
Lukashenka's voice:
Well, in the Great Patriotic War, we lost 30 million, and what about now, to fight the Germans ...