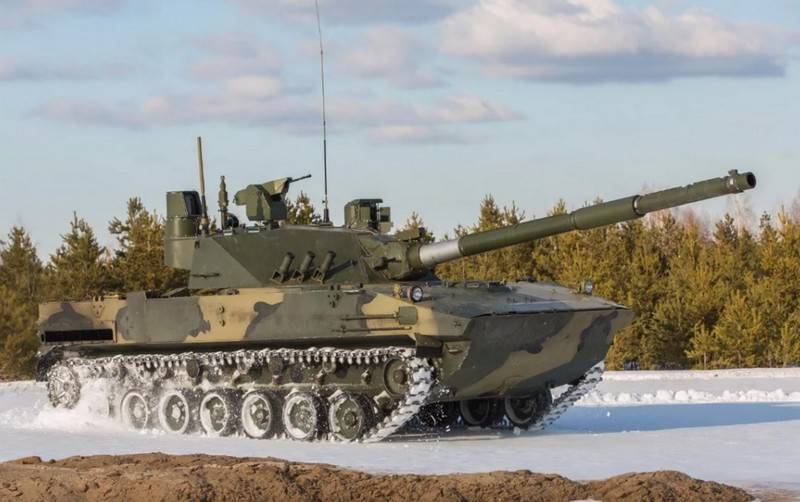 The Ministry of Defense made a decision to purchase the Sprut-SDM1 self-propelled guns. Reported by
"News"
with reference to the Ministry of Defense.
According to the newspaper, the military department has not yet announced how much Sprut-SDM1 will be purchased and which airborne units will be supplied with equipment, a decision on this will be made later, the issue is being worked out. However, starting next year, the training of commanders of the Sprut-SDM242 self-propelled anti-tank gun will begin on the basis of the 1nd training center of the Airborne Forces.
As explained in the Ministry of Defense, "Sprut-SDM1" differs from the basic version of "Sprut-SD" by more powerful protection and an integrated digital control system. The vehicle is armed with a 125-mm cannon, a thermal imaging sight is installed, due to which the fire capabilities have become the same as those of the latest
tanks
- in fact, "Sprut-SDM1" is a light amphibious tank.
The modernized light amphibious tank "Sprut-SDM1" has become more mobile due to the installation of the engine, transmission, undercarriage assemblies, chassis information and control system, which have already been tested on BMD-4M and BMP-3
- said the deputy director general of the state corporation "Rostec" Vladimir Artyakov.
The Russian combat vehicle Sprut-SDM1 "is intended for fire support of subunits, fighting armored vehicles, destroying enemy strongpoints and defensive structures, conducting military reconnaissance and combat security.
In August, the Ministry of Defense announced the start of state tests of the Sprut-SDM1, which will take a year and a half. Prototypes of the machine were transferred to the units of the Russian army.