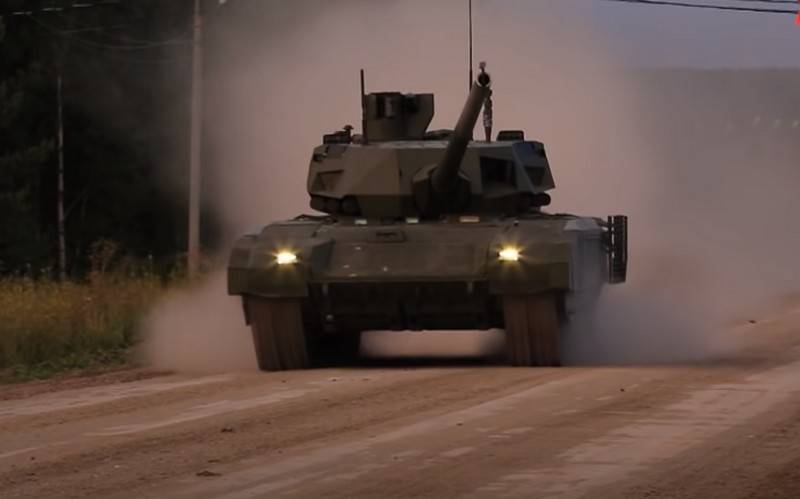 Serial deliveries of Russian
tank
T-14 "Armata" troops are scheduled for the next, 2021. This was announced by the head of "Rostec" Sergei Chemezov.
According to Chemezov, in the future, the Armata tank will become the new main tank of the Russian army. Serial deliveries of the T-14 to the troops will begin in 2021.
Serial deliveries of the T-14 tank on the Armata platform will begin in 2021. It is by far the best tank in the world today. In the future, this vehicle will be the new main tank of the Russian army.
- He explained to reporters.
The head of Rostec emphasized that advanced technologies are used in Armata, all processes are automated as much as possible.
(...) the crew of the "Armata" does not need to aim precisely, it is only necessary to roughly aim the gun at the target. The electronics will do everything on its own - it will accurately determine the distance to the target and aim the weapon at it. That is, this machine uses elements of artificial intelligence that help the crew to fire.
- he added.
At the same time, the unmanned version of the Armata tank will not go into series production, this vehicle was created only for testing unmanned technologies.
Chemezov also noted that the T-14 "Armata" tank is preparing to move abroad, the vehicle has already received all the necessary documents for sale to foreign customers. An advertising campaign is currently underway.
Earlier, some media outlets, citing the Ministry of Defense, reported that the military department signed a contract for the supply of two battalions of T-14 tanks and a battalion of BMP T-15 for military tests.