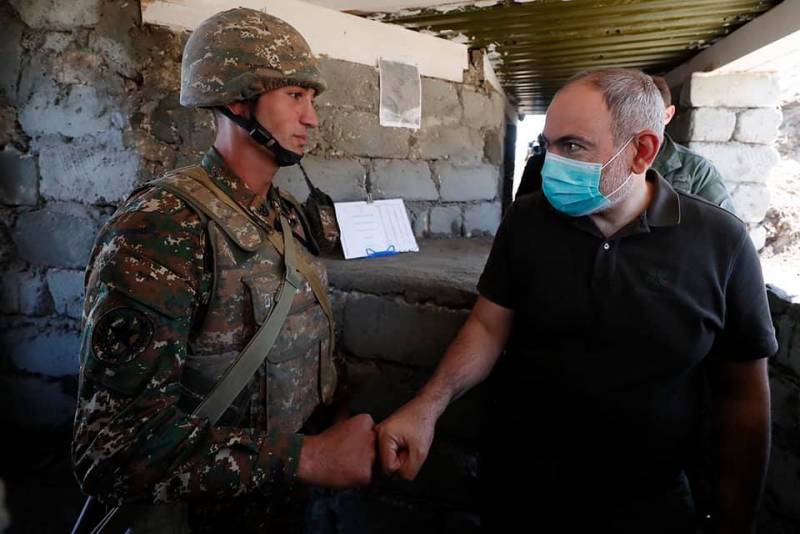 Experts are discussing a statement by the Armenian Prime Minister on why the skies over Nagorno-Karabakh continued to remain open during the hostilities. This issue is relevant at least due to the fact that drones actually reigned supreme in the skies over Karabakh, the use of which by Azerbaijan caused huge damage to the Armenian troops.
Trying to justify the actual inaction, Nikol Pashinyan said that the electronic warfare systems, purchased in 2017 for $ 42 million, allegedly did not work. At the same time, Pashinyan does not say against what specific goals the electronic countermeasures systems were tried to be used, from what distance and why nothing was reported about the "inoperability" in the military department. He also does not say what kind of electronic warfare systems he has in mind.
Pashinyan blamed the problem on those who made a deal to acquire "non-working" military equipment, and added that "there was even a rollback so that Su-30 fighters were supplied to Armenia instead of these systems."
Pashinyan:
Did you buy non-working systems without a rollback out of the best intentions and nobility?
Pashinyan's statement is commented on not only in Armenia itself, but also in Russia and Azerbaijan. The Azerbaijani press, playing on the well-known phrase about the problems of a "bad dancer", noted with some irony that Pashinyan was "prevented from defeating the Russian
weapon
". Although Pashinyan did not say that he meant exactly Russian complexes.
In Russia, experts state that Pashinyan continues to try to shift the responsibility for the problems that arose in Karabakh onto others, including his predecessors who signed military-technical contracts.
Pashinyan's statement was reacted even in Poland, where observer Mateusz Kubiak notes that while Pashinyan continues to look for those responsible for the defeat in Karabakh, "his political fate is in the balance."
Earlier it was reported that the Armed Forces of Armenia and the Armed Forces of the unrecognized Nagorno-Karabakh Republic received their own Shgarsh jammers. When these systems were presented at one of the exhibitions, it was stated that with their use drones "lose the ability to navigate in space." The electronic warfare system developed in Armenia, as previously reported, allows "jamming the signal" at a distance of up to 30 km. In directional mode, signal jamming can be carried out at a distance of up to 60 km. In this regard, the network is discussing the question of where the Shgarsh electronic warfare system was, or did Pashinyan talk about it as not working during the conflict?