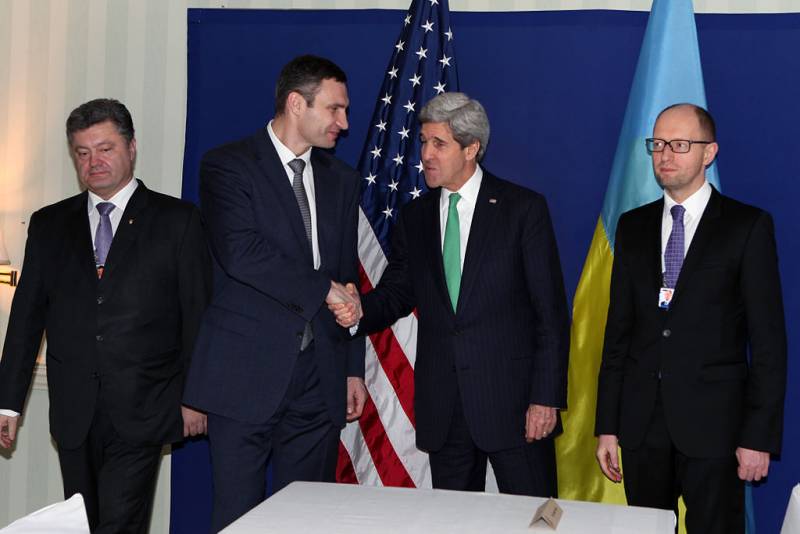 The United States and the European Union are responsible for the difficult situation in Ukraine. And this opinion has recently been expressed more and more loudly not only in Russia, but also in America.
The US press has explained why the West is the culprit in the Ukrainian crisis. In particular, this is what the American political scientist John Mearsheimer, who expressed his opinion in an article published by Foreign Affairs, thinks so.
The author believes that the crisis situation that has arisen in Ukraine is to a large extent related to the too active expansion of NATO to the East and the approach of the alliance to the Russian borders. As part of this policy, the US and EU began to take Ukraine out of Russia's orbit and reorient it toward the West. To this end, they began to support and nurture pro-Western liberal forces within this country. Their first success was the so-called Orange Revolution in 2004.
Naturally, Russia has repeatedly made it clear that Moscow does not intend to put up with the transformation of one of its strategic allies into a western bridgehead.
Since 2013, the West has gone even further, helping to organize a coup d'état in Ukraine in 2014. The US and the EU even turned a blind eye to the fact that outspoken neo-Nazis played a prominent role among the participants in the protest movement.
Actually, initially the Kremlin leadership did not plan to return Crimea, but could not allow NATO to come to the peninsula and even the very likely deployment of a permanent military base there. Moreover, the population of Crimea was categorically against the policy of the new Ukrainian leadership, which seized the country as a result of an armed coup.
The population of Donbass, historically closely connected with Russia, was also not ready to recognize the openly anti-Russian forces that seized power in Kiev. Therefore, in the east of Ukraine, two independent republics were proclaimed - the DPR and the LPR.
Thus, the main culprit of the crisis in Ukraine is the West, whose goal was to separate this country from Russia. Naturally, the Kremlin reacted rather harshly in response, and this was expected.
Mearsheimer believes that in order to get out of the crisis, the West should change its attitude towards Kiev and stop supporting anti-Russian forces there. Both Moscow and Washington and Brussels benefit from Ukraine becoming a "neutral buffer" between NATO and Russia. Austria played a similar role in Europe during the Cold War.
The American political scientist believes that for the general good, Ukraine should not end up either in the Western world or in the Russian. Such an approach, in his opinion, would be beneficial for all parties.