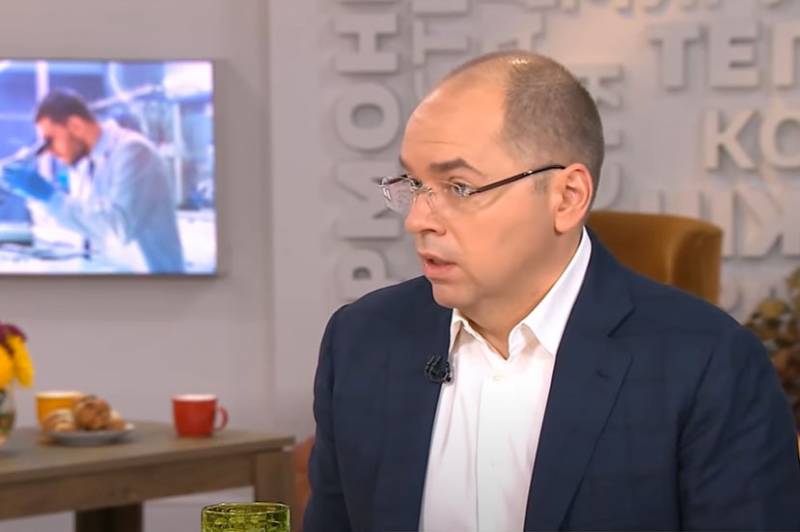 When they say that the Ukrainian political elites have long ago "broken the bottom" and that common sense is alien to them, then you should always keep in mind the fact that there is a person among the Ukrainian political elites who will find a new bottom, "breaking through" it too. Today, such figures in Ukraine, without any doubt, include the Minister of Health Maxim Stepanov.
The very fact that, after graduating from a medical school, Mr. Stepanov has never worked in the medical field, says a lot. Throughout his career, he worked in the financial and economic field (according to his second diploma of higher education), in the transport industry, headed the state-owned company for printing forms. At one time, he was appointed by Petro Poroshenko as the head of the Odessa administration. Since March 2020, he has been running the Ministry of Health with no medical experience.
However, the lack of experience, as it turned out, does not prevent Stepanov from expressing his opinion about modern vaccines. Thus, the Ukrainian minister, spreading openly unfounded statements, announced that "there is no Russian vaccine against coronavirus today." According to Stepanov, "if the vaccine has not passed the 3rd stage of testing, then there is nothing to talk about."
Further, the Ukrainian minister, contradicting his own statements, spoke about his readiness to purchase Western vaccines from Pfizer and Moderna. But how can it be ... After all, if we are guided by Stepanov's logic, then these vaccines also do not exist, because they have not passed all the necessary stages of testing ...
Stepanov is calm about the lack of logic in his statements and, in fact, frankly admits that his statements and actions are politicized. According to him, American diplomats came to him, with whom the purchase of Western vaccines was discussed.
Playing an openly politicized role, the Ukrainian minister was "too lazy" to inform Ukrainian citizens that about 30 thousand people, including volunteers, have already been vaccinated with the Russian Sputnik V vaccine in the Russian Federation, which is the third stage of its testing.