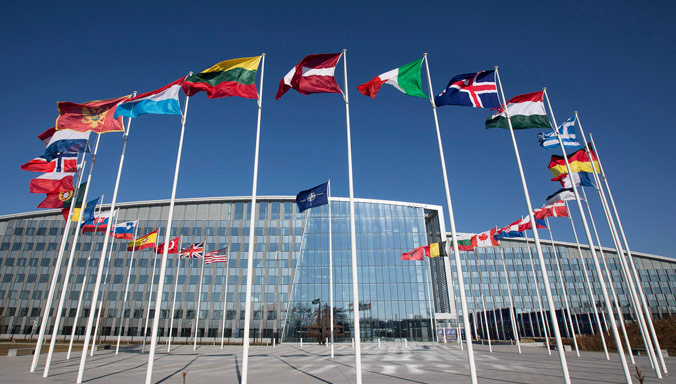 Photo: NIDS / NATO Multimedia Library
Save NATO
American political scientist Andrew Michta writes about this in the article "US Alliances: Decisive Factors in the Confrontation of Great Powers" published in the collection "2021 US Military Power Index". Mikhta admits that the military potential of the alliance, as well as its attractiveness for the EU countries, has decreased in recent years, including in connection with the reunification of Crimea with the Russian Federation.
He writes the following:
... NATO's military capabilities, including the forces deployed by the United States in Europe, have become a pale shadow of the once formidable armies. In addition, NATO's logistics infrastructure has degraded to such an extent that even conducting joint exercises of a moderate scale has become problematic ... In addition to the fact that NATO forces are inadequate to the tasks set, breaking the political consensus within the alliance on an overarching strategic threat may become an even more serious problem. ...
Andrew Mikhta believes that the true meaning of the "strategic threat" - the claims of the Russian Federation on the territory of Eastern Europe and even Norway, is well understood in the countries directly bordering on Russia, while in Germany or France this threat is increasingly perceived as illusory. Despite the existing problems, the political scientist believes that the EU countries need not only to increase their contributions to the NATO budget to at least 2% of GDP, but also to seriously engage in their own armed forces.
Direct blackmail
Andrew Mikhta states:
NATO does not need "burden-sharing," but its "delegation," a term I use to explain that the best strategy for defending the transatlantic community is for European members to adequately fund their own defense. This is necessary so that the EU, if necessary, with the support of US advisers and under the protection of US nuclear potential, could contain or even repel Russia's onslaught if the US is involved in a conflict in the Pacific or Indian Ocean.
The expert is confident that in the event of Beijing's aggression against the US allies - Japan, South Korea or Australia, as well as in the event of other probable crises that require US military intervention, Washington will be forced to use all its resources, so that EU assistance will be indirect. At the same time, Mikhta considers it likely that in the event of a conflict between the United States and China, Russia will immediately take advantage of the situation in order to seize the former Eastern European satellites.
How the European Union will respond to this simple blackmail and new demands to increase military spending is still unknown. However, given the economic crisis and problems with approving the EU budget for 2021, such statements are unlikely to be greeted with enthusiasm in Old Europe.