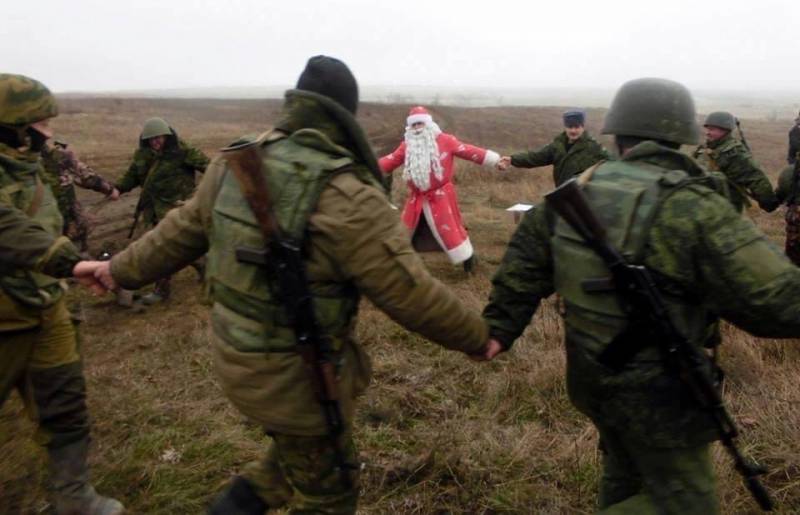 No longer a militia
The times when the militia needed literally everything, and caravans with various assistance arrived in Donbass almost every day, are long gone. Today, LDNR is protected not even by the People's Militia, but by the "Armed Forces" of the republic. This status is becoming more and more real. And urgent service for the male population of the republics is an issue that can be resolved as early as next year. It was not without reason that in November the LPR held "gatherings" of reservists (in fact, they just found out who was on the spot and ready to respond).
At the same time, in the seventh year of its existence, the People's Militia still suffers not only from ailments traditional for any armed forces, but also from its own specific ailments.
One of the most obvious and painful of these is the issue of supply. The years have passed. Many beautiful words sounded. But many of the needs of NM are still covered by the help of volunteers or the servicemen themselves.
On allowance
The so-called clothing allowance given to the servicemen of the NM LDPR is, in practice, reduced to a set of "figures" ꟷ most often worn. But even if a new "uniform" comes across, it still doesn't make it any easier. Most likely, they sew it somewhere on the territory of the republics, so the quality is appropriate.
Many fighters (especially on the front line) prefer to buy high-quality Russian counterparts instead of the cold and cheesy local government uniform. The same applies to footwear: all that the People's Militia can offer are tarpaulin boots. And you need to buy normal shoes yourself.
All useful (and not so) little things, such as a travel bag and its contents, an officer's tablet, an entrenching tool and much more, are also purchased by the military at their own expense. Most often, they even buy insignia, cockades, chevrons, badges and other "jewelry" on their own. They say that for the time being there is no need to pay for medals, but they prepare for participation in parades according to the same scheme - a dress uniform (which costs about 15 thousand rubles) is sewn with their own funds.
We are fighting on our hard-earned
In principle, it is not critical. If you want to serve and fight in comfort, equip yourself. Unfortunately, they often also have to fight on their own, blood. It cannot be said that the command did not allocate anything for the front at all. However, the quantity and quality is poor. So the fighters have to buy (or ask volunteers) building materials for arranging trenches, a camouflage net (you always need a lot of it), bags, shovels, wood, etc.
The use of our own vehicles is almost a tradition. Gasoline for him also has to be paid out of pocket. Transport and spare parts, sights and all kinds of body kits, binoculars and periscopes, communications equipment, medicines and other needs ... If it were not for the help of caring people and personal funds (they are thrown into the boiler every month even in the deep rear), it would be very problematic to fight.
Weapon free
Good,
weapon
and ammunition is still being supplied in the required quantities. Correctly.
And the most amazing thing is that it's completely free for now.
Where are the organizational conclusions?
In this whole situation, it is not the very existence of the problem that is strange. What else to expect from a young military? Which were created (and are being formed) on a living thread in the conditions of hostilities at the end of 2014 ꟷ early 2015 and the subsequent sluggish war? With an acute shortage of qualified personnel?
The strange thing is that over the past years, apparently, no organizational conclusions have been made. And no one took decisive steps to correct the mistakes.
Looking at the People's Militia (and what is there - at the republics in general), it sometimes seems that the retrograde mentality inherited from Ukraine is indestructible. And even if he is reborn, then, alas, only after many generations.
Because how else can we assess total carelessness, irresponsibility, the habit of spitting on laws and rules? And also blind confidence that a bad tomorrow will never come?
But it will come sooner late. Perhaps not in the form of a full-scale war. And in the format of auditors and criminal liability.
This is what will indeed come as a surprise to many in the LPNR.