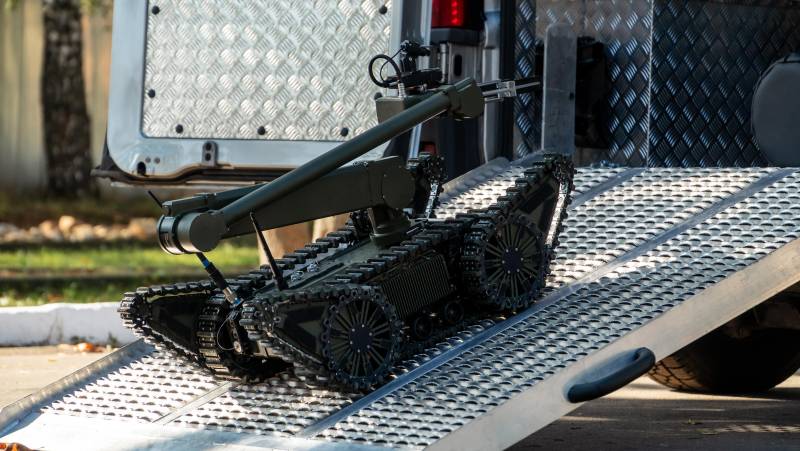 "Captain" with manipulator and gripper
The supply of engineering troops consists of various robotic complexes for solving certain problems. Recently it became known about the continuation of work on another project of this kind. In the future, the Kapitan RTK may enter service. It is a modular complex based on a universal platform with interchangeable equipment for solving a wide range of tasks.
Initiative and interest
Complex "Captain" was created at the Central Research and Development Institute of Robotics and Technical Cybernetics (TSNII RTK) from St. Petersburg. The development was carried out on an initiative basis, and the finished sample was presented in 2017. Since then, "Captain", along with other developments of the institute, has been regularly demonstrated at specialized exhibitions.
On the last day of November, the Ground Forces Information Support Group disclosed actual data on the Captain project. It is reported about the launch of initiative work to improve this RTK in the interests of the engineering troops. The purpose of such work is the further development of ground-based robotic systems for engineering reconnaissance and mine clearance.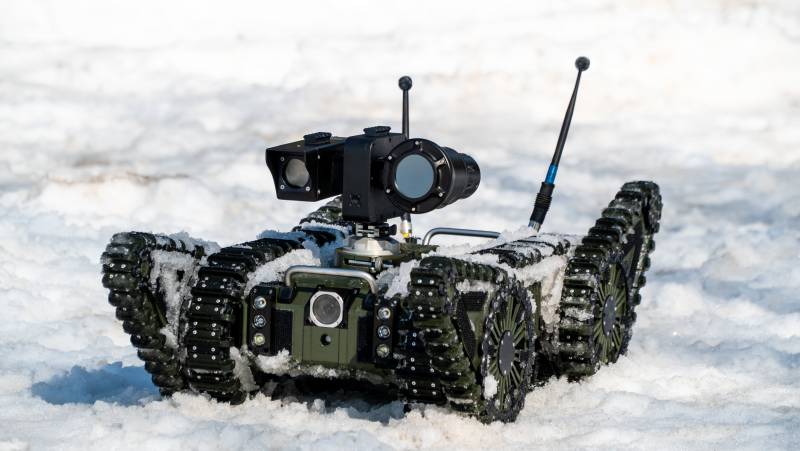 Configuration for surveillance and reconnaissance
There are no technical details about the improvements being made. Also, the prospects of "Captain" were not specified. At the same time, recent reports may indicate interest in the new RTK from the Ministry of Defense, and also indicate the possibility of adopting such equipment for supply in the future.
Basic platform
To date, the Central Research Institute of RTK has developed a whole line of small-sized robotic systems. The product "Captain" is called the most advanced model in this line, not inferior to foreign RTKs of its class. The complex can solve a wide range of tasks and is offered for use by units of various services and departments.
RTK "Kapitan" is built on the basis of a universal platform in the form of a compact tracked chassis. It measures 620 x 465 x 215 mm and weighs 35 kg. There are seats for mounting a variety of equipment weighing up to 20 kg. An electric power plant with rechargeable batteries is used. The tracked undercarriage includes two pairs of active drive arms with their own track chains. The speed of movement of such a platform is limited to 1,5 m / s, and its design provides high maneuverability and cross-country ability in different conditions.
The advertising materials for the Captain project previously mentioned the possibility of creating a wheeled chassis. Whether such a modification is ready is unknown. So far, this complex has been demonstrated only on tracks.
The platform is capable of moving on snow up to 10 cm deep and on grass 30 cm high. An ascent to a slope of 30 ° is provided. Movement on stairs and other complex relief elements is possible. With constant movement, the batteries last for 4 hours, in observation mode from a place - for 8 hours.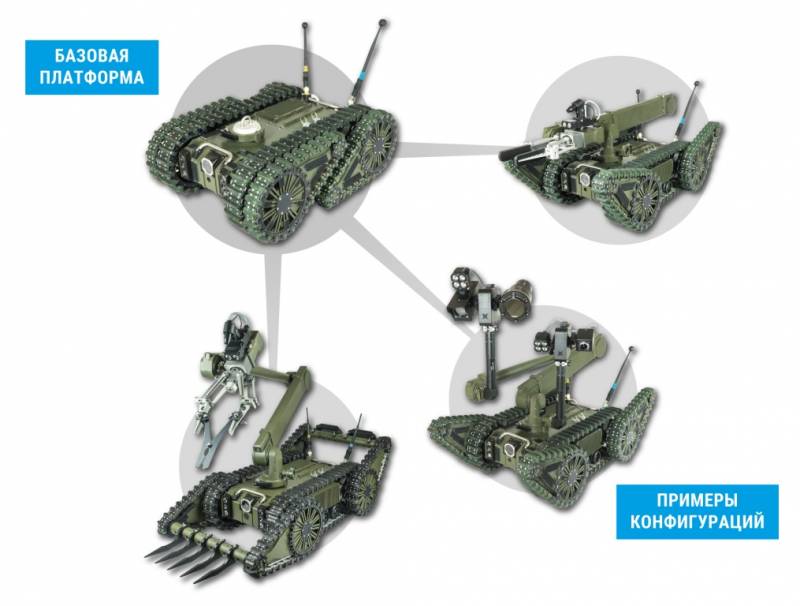 For driving, the Kapitan RTK platform is equipped with bow and stern video cameras, and also carries two ultrasonic rangefinders and a pair of lighting units. The control is carried out from the operator's panel, made in a shockproof case. When using radio communication, operation is provided at ranges of up to 500 m (urban development) or up to 1200 m (open area). The Captain can also carry a reel of 300m fiber optic cable and communicate with it.
Modularly
The underlying platform is capable of carrying various types of payloads in the form of various devices. The Central Research Institute of RTK notes that an innovative approach was used in its creation. To connect the components of the complex, unified fasteners are used, and electrical connections and data exchange protocols are standardized. Such measures simplify the operation of the complex, and are also capable of ensuring its further development.
On the roof of the platform is the so-called. multi-turn root joint - a device for mounting a multifunctional manipulator. The necessary equipment can be installed on its boom. The installation of a number of devices is carried out directly on the body or on the drive levers. The hinge has a built-in command and data connector. Replacing equipment is not difficult and takes minimal time.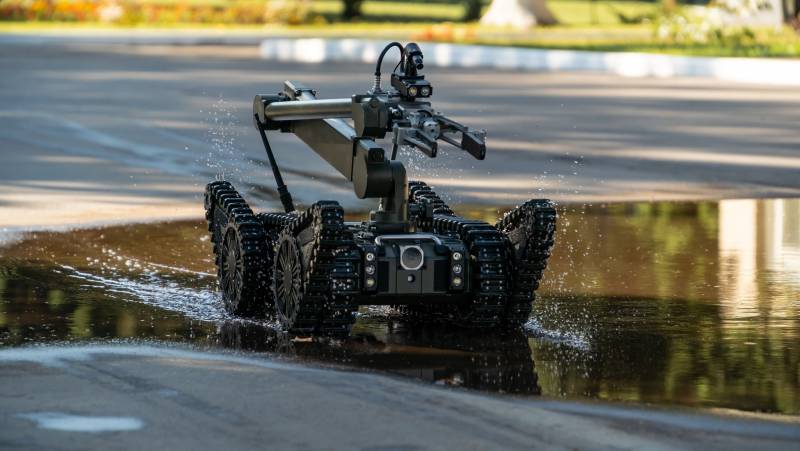 The manipulation module is a swivel base with a two-link boom with a connector for equipment. The design of the module allows working with objects weighing up to 8 kg with an overhang of up to 500 mm. The maximum reach of the manipulator is 1,2 m, but the weight of the load is reduced to 3 kg. Earlier it was reported about the development of a reinforced version of the manipulator with a carrying capacity of up to 20 kg.
The manipulation module can be equipped with a gripper with its own camera and rangefinder, a set of optoelectronic devices, or special engineering devices. For the neutralization of hazardous objects, the installation of a hydraulic breaker is provided.
With the help of a manipulator with several degrees of freedom and special equipment with similar mobility, the Kapitan RTK can get to hard-to-reach places and monitor or interact with objects. The standard gripper can be supplemented with one or another tool, from scissors to weapons. Optical means allow observation at ranges up to 500 m day and night.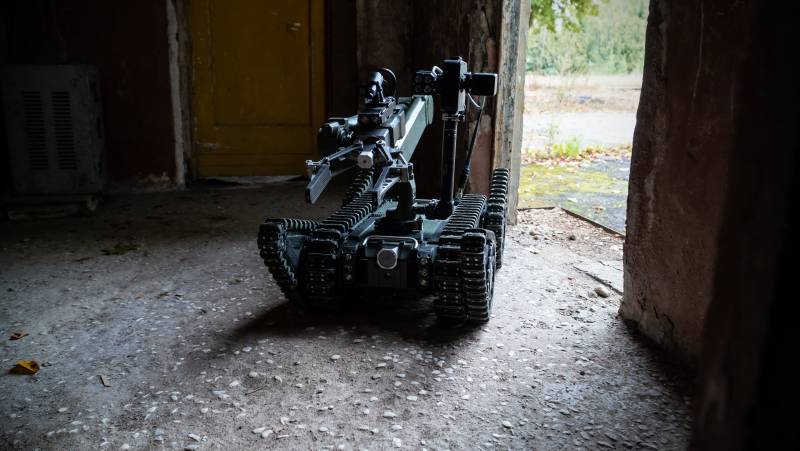 Developed by the so-called. set of tools for engineering exploration. It includes transverse rods for fitting between front or rear active arms. Hooks, probes, forks or knives are placed on them to interact with various objects. A combination of tools is allowed - depending on the task at hand.
Representative of his class
RTK "Kapitan" as a whole looks like a fairly successful development, capable of performing a wide range of works. The project is based on curious design and technical solutions that provide ample opportunities and fairly high performance. Already 15 different payload elements have been created, with the help of which 4 basic configurations are organized. Development of new devices is possible.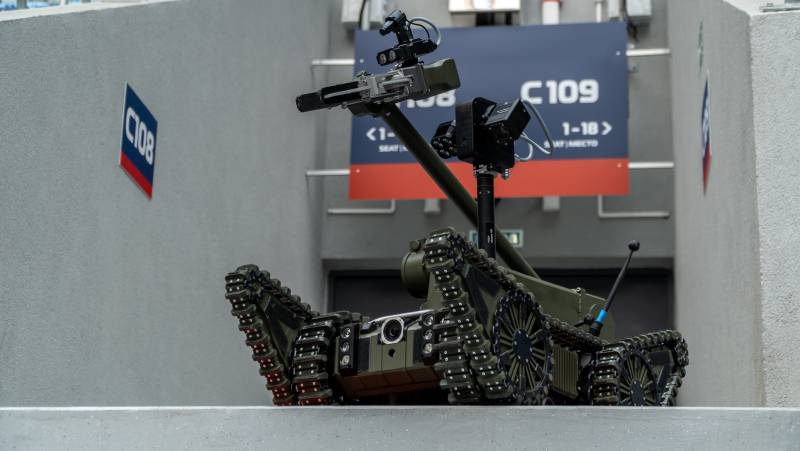 At the same time, it should be recognized that the "Captain" is not a unique development. Complexes of this kind with similar technical features and similar characteristics are being actively developed both in our country and abroad. They are used in various structures and provide rescue of people or the solution of combat missions. Thus, the Russian RTK "Kapitan" turns out to be another representative of a fairly popular class of equipment.
It should be noted that the popularity of this class of robots has objective reasons. Lightweight platforms with manipulators and a changeable load, capable of observing or interacting with objects, have long shown their potential and have proven themselves in the best possible way. Therefore, any new sample of this class, built on modern technologies and components, can immediately count on interest from customers - although it will have to face competition.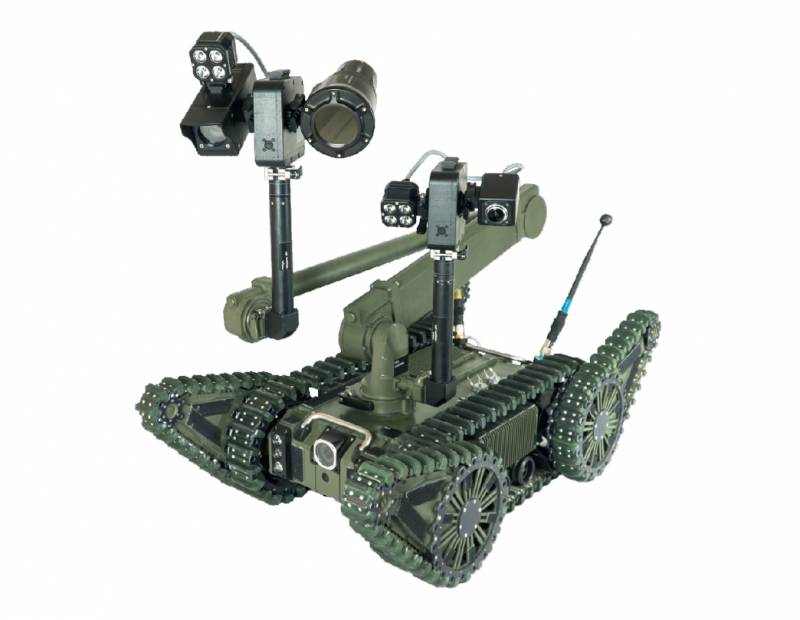 According to a recent report by the Ministry of Defense, the Kapitan RTK is currently undergoing some revision. Its nature is not specified, but it is indicated that it is carried out in the interests of the engineering troops. This testifies to the army's interest in the new domestic robot. Apparently, the "Captain" passed preliminary tests, according to the results of which the development organization received recommendations for improving the complex. Having completed such activities, the Central Research Institute of RTK will be able to receive an order for mass production.
Thus, new interesting messages may appear in the near future. This time, their topic will be the adoption of the Kapitan RTK for the supply of engineering troops. This product will be a good and useful addition to other complexes already put into series and mastered by the army.