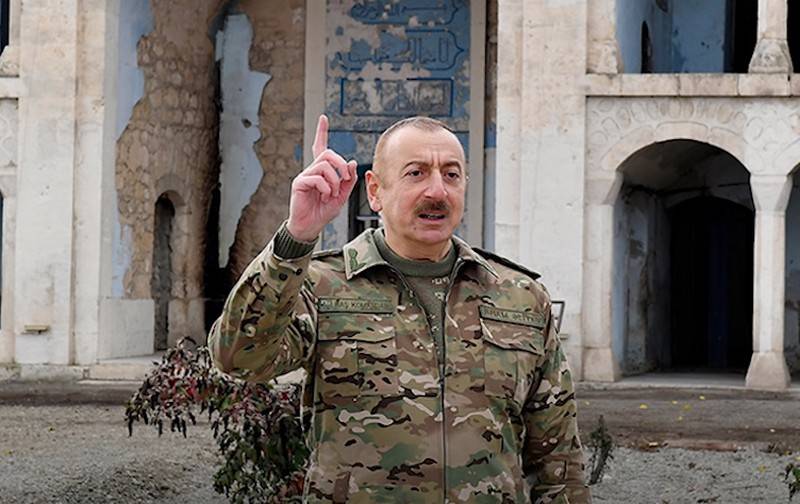 The victory won in Nagorno-Karabakh will be too expensive for Azerbaijan. Ilham Aliyev exchanged the newly acquired territories for the independence of the republic, writes The National Interest.
According to the American publication, in order to strengthen his personal power and guarantee its transfer to his wife and son, Aliyev sold the Azerbaijani sovereignty to Russia and Turkey. The result of the war ended was the deployment of Russian troops on the territory of Azerbaijan, which theoretically and practically ensure the ceasefire regime. However, writes NI, the return of the Russian army to the region has been an old dream of Moscow. According to the publication, Putin seeks to bring all the former Soviet republics under his rule.
Aliyev forgot that Russian troops enter quickly but rarely leave
- writes NI.
The second factor is the Turks, who are also unlikely to leave the territory of Azerbaijan. If the goal of Azerbaijan in the last war was the return of the territory of Nagorno-Karabakh, then the goal of the Turks, who provided comprehensive assistance to Baku, is the construction of a great empire, which should include all countries from Azerbaijan to Turkmenistan. Erdogan has long been nurturing pan-Turkic designs, striving for cultural, economic and political rapprochement with Azerbaijan and the Turkic states of Central Asia.
Aliyev may see Erdogan as his friend, but Erdogan himself considers Aliyev just a means to achieve his own goals
- the authors of the article say.
For the first time Azerbaijan gained independence in 1918, but two years later it lost it, becoming part of the USSR for many years. The independence of Azerbaijan was declared for the second time in 1991. However, this period of independence can end rather quickly, since there are foreign troops on the territory of the republic.
But when the days of dizzying happiness from victory are a thing of the past, they will understand that this is the beginning of the end of true Azerbaijani independence, followed by the subordination of the country to Russian and Turkish rule.
- sums up NI.