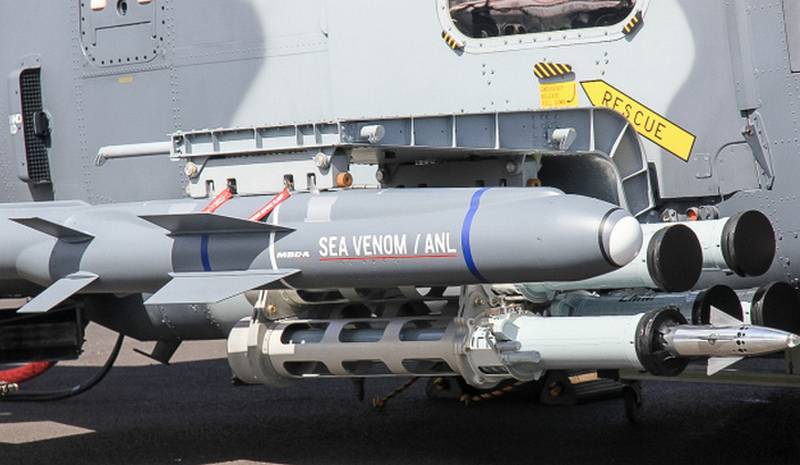 The French Navy and the Royal Navy of Great Britain received the new Sea Venom air-launched anti-ship missile. This was reported by the press service of the MBDA consortium, which developed the new ammunition.
As stated in the consortium, the new
aviation
The anti-ship missiles have successfully passed the stage of qualifying firing tests and will soon enter service with the French and British navies. In british
navy
AW159 "Wildcat" helicopters will be carriers of the Sea Venom anti-ship missiles, and the H160M "Cheetah" helicopters in the French fleet. The new missile will replace two types of anti-ship missiles at once - British Sea Skua and French AS15TT.
Sea Venom ("sea poison") - subsonic anti-ship missiles "hundred-kilogram class", designed to be launched from helicopters. Due to the presence of a warhead with an infrared guidance system, it can be used to destroy various types of surface and ground targets.
Sea Venom length - 2,5 m, diameter - 200 mm, weight - 110 kg. The declared range of destruction is 20 km. Warhead - armor-piercing fragmentation weighing 30 kg.
The missile, after separation from the carrier, includes an uncooled thermal imaging seeker developed by Safran with advanced image processing (with the possibility of integrating an additional channel for laser semi-active homing) and a two-way communication channel for involving the operator in the control loop.
It has several autonomous flight modes, including flight at extremely low altitude above the sea surface. In addition, there is an operator control mode with which you can re-target the missile during flight, correct the aiming point or safely terminate the mission.