China deployed missile detection system on balloons: data from space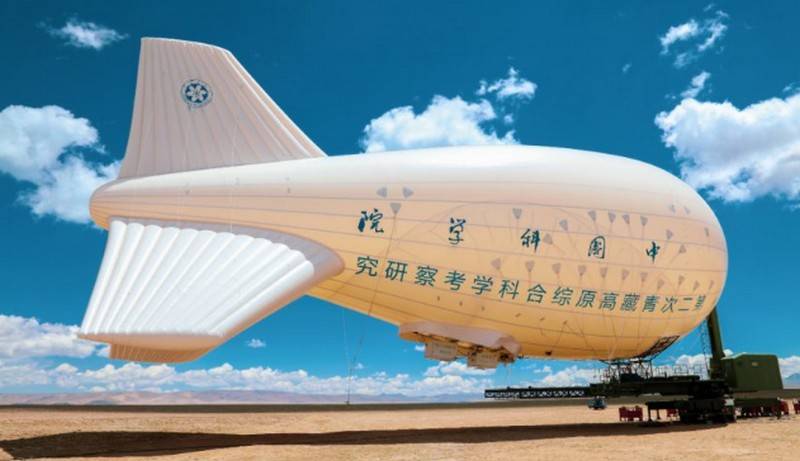 In 2015, reports emerged that China was testing a missile detection system deployed on helium-filled balloons. In the same year, the United States abandoned similar developments after the military for several hours "chased" the apparatus that had lost control until it crashed to the ground. As a result, Beijing has thus far managed to get ahead in this segment of defense.
Above are only satellites
China has built a new hot air balloon base in the northeastern port city of Dalian as part of [building] its early warning missile attack system
- about this edition
Kyodo News
said Japanese military expert Saburo Tanaka, pointing out that it has no analogues in world practice.
In support of his claim, he cites a photograph taken from space showing a balloon about 50 meters long on the runway. According to him, the base on which he is located is designed to monitor the Korean Peninsula and US military installations in Japan. Earlier, in 2019, a similar balloon was already recorded, being located at one of the PRC military bases on the disputed Spratly archipelago.
Tanaka believes the new system can effectively track missile movements at low altitudes. The balloon flight altitude ranges from 20 to 100 km. The observation of the airspace should be carried out thanks to the radar and infrared cameras located on board.
Unlike airplanes, which rarely visit the upper atmosphere, the balloon can always be in them. At this altitude, he "has excellent stealth performance, as well as high intelligence potential": above are only artificial satellites, which are much more expensive.
Low altitude will not hide from the balloon
It [the balloon] is the oldest aircraft used for military purposes. But modern helium balloons have nothing to do with their ancestors with hot air or hydrogen.
- writes the French edition
Meta Defense
, indicating that balloons today are able to reach the upper layers of the mesosphere, they are fully automated, have a huge range, can be powered by solar panels and, as a result, stay in flight for several weeks. Aircraft, requiring constant refueling, do not have such capabilities.
As Meta-defense explains, the field of view of the balloon at an altitude of 50 km is several tens of thousands of square meters. km. At the same time, it will not be possible to hide from him, even the means of destruction that go at low altitude, hiding behind the terrain from ground and sea radars.
Their [balloons] are very difficult to eliminate [due to flight altitude], which is not the case with early warning aircraft or ground-based radars, which, in the event of a conflict, will be the first targets destroyed.
- believes Meta-defense, positively assessing the deployment in China of a new missile detection system.
www.meta-defense.fr/; english.kyodonews.net/