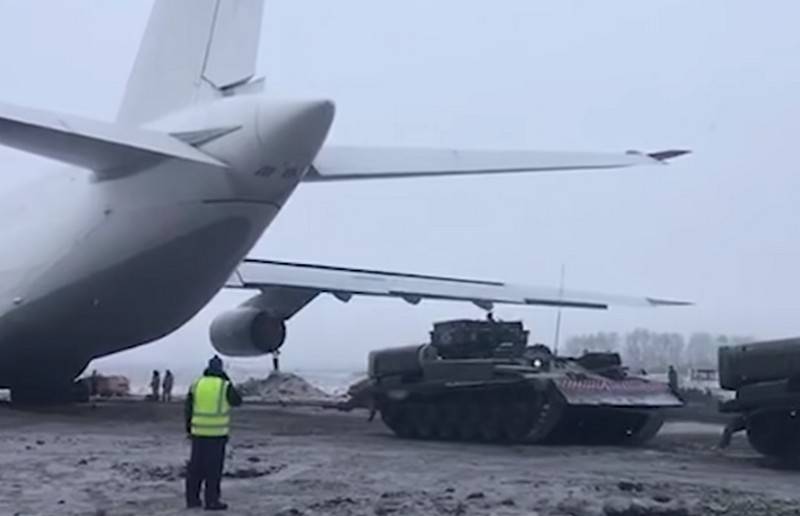 A video of an An-124 aircraft towing that made an emergency landing at Novosibirsk Tolmachevo airport on November 13 appeared on the Web. The video was filmed by the Volga-Dnepr airline, which owns Ruslan, after which it was distributed on social networks and posted on YouTube.
It is reported that a special strip 350 meters long and 12 meters wide was rolled and showered to prepare for towing the aircraft. On the plane itself, the tires and disks of the main landing gear were replaced, inflatable mats and pallets were brought under the nose.
Three army armored recovery vehicles (ARVs) were delivered to tow the aircraft at the base
tank
T-72. The towing ropes were fixed to the main landing gear, after which three cars harnessed in a train, moving at low speed, pulled the aircraft giant from the field to the landing strip of Tolmachevo airport. Note that the empty weight of the An-124 is just over 178 tons; during the emergency landing, there were 84 tons of auto parts on board.
It should be reminded that on November 13, an An-124 Ruslan transport plane made an emergency landing at the Novosibirsk Tolmachevo airport. The plane skidded off the runway (runway), receiving serious damage to one of the engines, as well as the fuselage and landing gear. As later reported in the Federal Air Transport Agency, the cause of the emergency landing was engine problems.
The plane stood at the landing site for two weeks while preparing for its evacuation, which involved military equipment. The plane is currently at the Novosibirsk Tolmachevo airport.