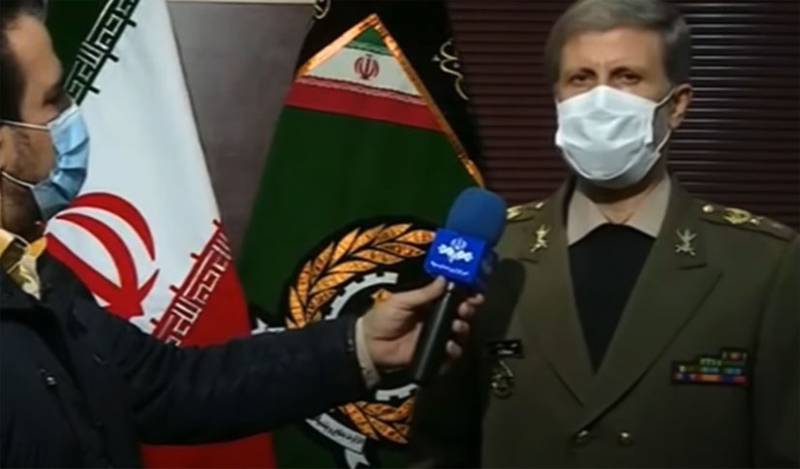 Iran publishes preliminary data obtained during the investigation of a terrorist attack against nuclear physicist Mohsen Fakhrizadeh. Recall that an Iranian scientist who was engaged in developments in the nuclear field died while driving in a car in the suburbs of Tehran.
The Iranian press writes that everything happened when a car with a scientist entered the city of Absard, accompanied by cars with security. When the first car increased the distance to check the safety of the road, machine-gun fire was opened on Mohsen Fakhrizada's car.
The Iranian special services through the media announced information that the machine gun had a remote control and was installed in the back of a pickup truck on the side of the road. At the same time, the car's armor protected Fakhrizade. But he allegedly decided to get out of the car after the first shots because he "did not understand what happened." The driver of the second car tried to close the scientist with his car, but at that moment an explosion thundered. Atomic scientist Mohsen Fakhrizadeh was taken to a hospital with numerous wounds, where he died a short time later.
It is noted that the attackers themselves were not at the entrance to Absard. Where did they control the shooting and detonation from, has not yet been reported. At the same time, it is quite obvious that they had full information about exactly where and when the cortege of the Iranian scientist would follow. Therefore, it is also obvious that the terrorist attack was being prepared for a long time, and its perpetrators could be persons who are well familiar with the scientist's work schedule.
Meanwhile, the Iranian special services have compiled sketches of the alleged perpetrators of the crime. There are also several photos in which, as noted, the likely criminals. Photo materials were sent to all hotels in Iran, as well as transferred to the Iranian border guards. The Iranian media noted that at the moment the likelihood that the perpetrators of the terrorist act left Iran is minimal.
ورد الآن: الإستخبارات الإيرانية قامت بتوزيع هذه الصور على جميع الفنادق في إيران بتهمة المشاركة في عمليات إغتيال كبير العلماء النوويين الإيرانيين محسن فخري زاده وطلبت من أصحاب الفنادق إستقبالهم من ثم الإبلاغ عن تواجدهم فورا. pic.twitter.com/rTLQa8Ngqn

- M.Majed محمد مجيد (@MohamadAhwaze) November 29