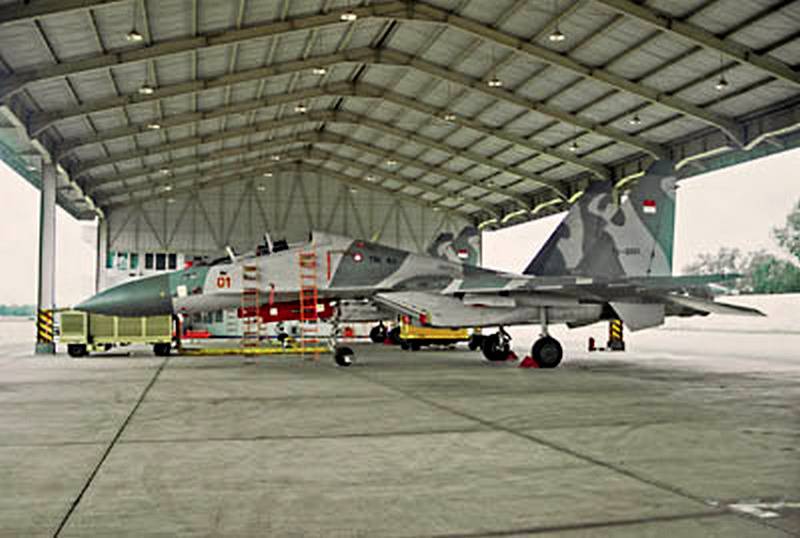 Traditionally, Russian combat aircraft, with rare exceptions, stand in open areas, being in line formation in open air "pockets" adjacent to the runway, despite the season and weather conditions. However, a number of foreign users of domestic vehicles prefer to shelter them, if not from enemy ammunition, then at least from the effects of the natural disaster for ease of maintenance.
Indonesian Air Force builds shelters for Sukhoi aircraft at Sam Ratulangi Air Force Base in Manado
- reported in the military department of the country.
As explained, these works, which took 206 days, were carried out as part of the modernization of the fighter base. They are coming ahead of schedule and are already 98% complete. Located at the Sam Ratulangi military airfield, the Su-27/30 are responsible for one of the country's most important theater of operations - the border province of North Sulawesi.
According to the IISS, along with Western fighters, the Su-27SK / SKM and Su-30MK / MK2 aircraft purchased in Russia are in service with the Indonesian troops. They are consolidated into one squadron. The purchase of the Su-35 was also planned, but the leadership of the country and the army, against the background of possible secondary sanctions from the United States and financial difficulties, have not yet demonstrated their final readiness to purchase 4 ++ generation fighters.
And while the majority of Russian Su planes are under the open sky, in Indonesia, fighters are placed in special shelters.