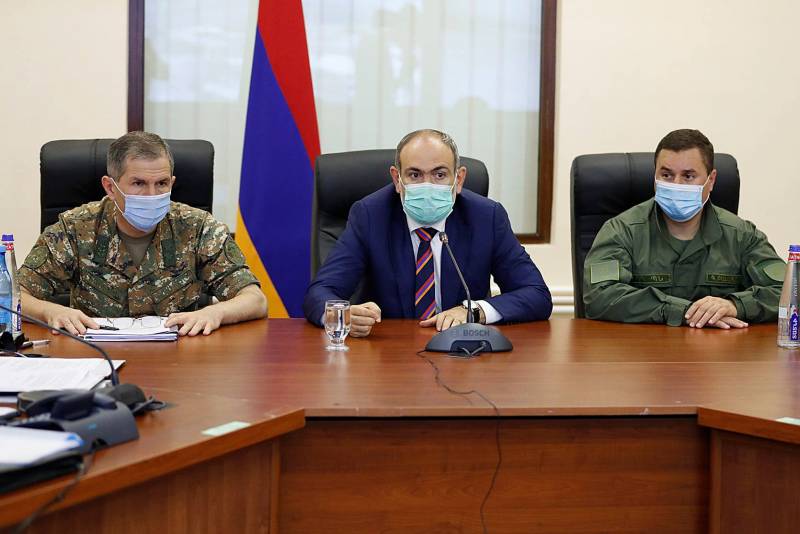 Nikol Pashinyan today actively uses his Facebook page to publish information about what preceded the signing of the trilateral agreement that ended the armed conflict. At the same time, the Prime Minister of Armenia builds his publications with a clear aim to eventually try to absolve himself of responsibility for what was happening in Karabakh.
According to Pashinyan, the beginning of the negotiation process was laid on October 19, that is, just over three weeks after the start of hostilities. The Armenian prime minister reports that on October 19 he received a call from the President of Artsakh (unrecognized NKR) Arayik Harutyunyan, who said that the war should be stopped.
At the same time, if you believe Pashinyan, then Arayik Harutyunyan said in a conversation with him that he was expressing not only his opinion, but also the opinion of several ex-head of the NKR, as well as ex-leaders of Armenia - Robert Kocharyan, Serzh Sargsyan, Levon Ter-Petrosyan.
Nikol Pashinyan writes that after talking with Harutyunyan, he called the Kremlin. At the same time, Pashinyan stated that the proposal to deploy peacekeepers in the Lachin corridor and along the Artsakh border came from him.
After Pashinyan, as he himself claims, he spoke about everything to extra-parliamentary forces, and then called a meeting of the Security Council of Armenia, which was attended by President Sarkissian, representatives of parliamentary parties and the patriarch of the Armenian Apostolic Church.
Nikol Pashinyan:
I am just informing about this so that it does not turn out as if I am doing something secretly, behind the backs of the people.
Then Pashinyan talks about several more conversations with Vladimir Putin and focuses on the situation with Shushi. According to Pashinyan, the Russian president expressed bewilderment why he (Pashinyan) speaks out against the transfer of the city to Azerbaijanis.
Prime Minister of Armenia:
When I presented my arguments, he (Putin) said that it was logical and that he was not aware of some of the subtleties.
According to Pashinyan, then 90 percent of the population of Shushi would consist of Azerbaijanis, and they would control the road to Stepanakert. Pashinyan stated that in this case, the truce at that time became impossible, and if he agreed to surrender Shushi, then Azerbaijan would put forward a new demand - to transfer the Karmir Shuka-Shushi road under his control.