Russia is slowly but surely rearming its bomber
aviation
... The German press tried to evaluate the progress of modernization of the aircraft fleet.
All the amenities at the pilot's service
Among the representatives of the legendary Flanker family, the Su-34 stands out for its duck nose: the wide front part and the tandem cockpit make it possible to accurately identify this fighter-bomber
- writes the edition of Flug Revue.
As explained, in Russia at the present time more than 100 copies of "veterans" of the Su-24, which will soon expire, are flying. Its natural successor is only one model - the Su-34. At the moment, 124 production units of this aircraft have been produced, which is in service with four regiments.
Flug Revue writes that the Russian pilots liked the new bomber, as the flight in it takes place in comfortable conditions. During the mission, they have at their disposal a small kitchen where pilots can use a microwave oven and a coffee maker. They even have a urinal on board. If desired, pilots can relax in reclining seats, or stand up to their full height.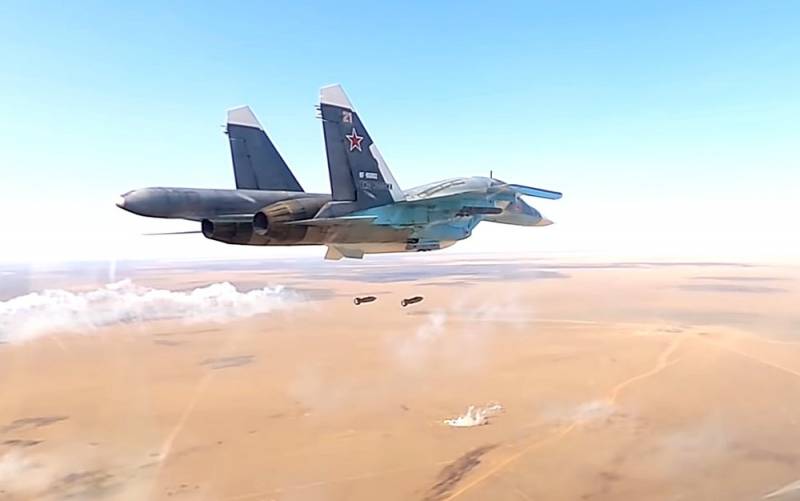 Transitional pattern
The Ministry of Defense intends to purchase 76 more Su-34s by 2027. As the newspaper notes, the military hopes to get new batches of the bomber in its updated version - the Su-34M:
The [upgrade] project appears to be progressing more slowly than planned, so a [new] production order is not expected until 2021 at the earliest.
While work is underway to improve the aircraft, the military department ordered 20 partially modernized Su-34NVO aircraft ("new type of equipment"). They differ from the basic version with improved radar and new avionics: the aircraft has a computer with Russian Elbrus processors for a search and navigation system, an automatic low-altitude flight system and a digital map. New systems of Russian origin make it possible to replace Western counterparts, surpassing them in quality.
The Su-34NVO will receive new weapons, in particular the Kh-35U anti-ship missile system and a laser-guided missile for testing ground targets of the Kh-38ML class, as well as the Thunder missile developed on its basis. Among the new products will be gliding and electro-optical-guided bombs, an R-77-1 missile for striking air targets.
As indicated by Flug Revue, it is assumed that the Su-34NVO will be able to replace the Su-24MR in tactical reconnaissance by installing specialized radar equipment.