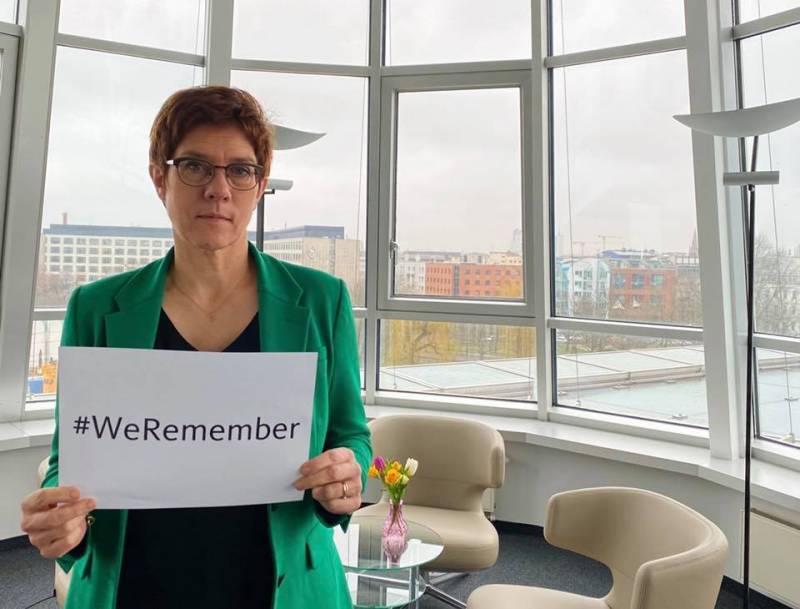 Russian officials are commenting on the statements of German Defense Minister Annegret Kramp-Karrenbauer that the negotiation process with Russia must be "from a position of strength." Also, Kramp-Karrenbauer said that "the danger from Russia has grown, and therefore it is necessary to strengthen the Bundeswehr." Let us remind you that Mrs. Minister of Defense of Germany expressed such words when discussing the issues of "main threats" and German-Russian cooperation during her speech in the German parliament.
This statement was commented on by the official representative of the Russian Foreign Ministry Maria Zakharova. Zakharova said that she would "respond like a woman to a woman." She noted that "Annegret herself admitted that the Federal Republic of Germany in the military sphere is completely insolvent without the United States of America."
Russian Foreign Ministry official:
What kind of "position of strength" then can we talk about? Obviously not about my own. Or does Crump-Karrenbauer have the keys to the Pentagon? Judging by the way the American ambassadors talk with their German colleagues, everything is exactly the opposite.
Maria Zakharova recalled that Germany has the largest American military contingent after Japan.
Maria Zakharova also recalled the "strength of German politics" when the United States was wiretapping Chancellor Angela Merkel, and in Berlin "only smiled in response."
Maria Zakharova:
When the power is there, but it is not yours, you cannot control it, but you are not allowed to dispose of it, and at the same time you are afraid of losing it - this is a sign of dependence. Simply put, the position of the seams. By the way, this word came from Germany and means "weakness, failure, incompetence."
Recall that at one time, Annegret Kramp-Karrenbauer in Germany was positioned as Angela Merkel's replacement as Chancellor of the Federal Republic of Germany.