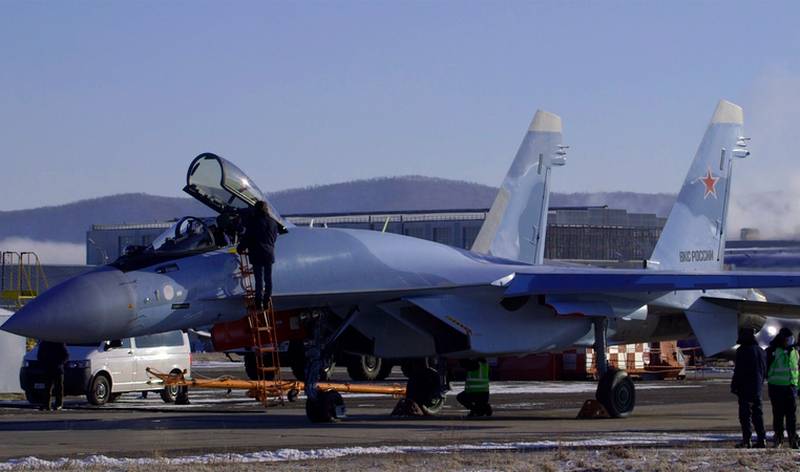 Two new Su-35S fighters entered Lipetsk
aviation
center of the Aerospace Forces (VKS). This was reported by the press service of the Ministry of Defense.
A pair of the newest Su-35S multipurpose fighters entered the State Center for Aviation Personnel Training and Military Tests of the Russian Ministry of Defense from the manufacturer. Crews of the Aerospace Forces completed relocation from the Khabarovsk Territory to the Lipetsk Region to the permanent deployment airfield
- said in a statement.
The aircraft flew from the manufacturer's airfield in Komsomolsk-on-Amur, covering about 7 thousand kilometers with two intermediate landings. The planes will start flying as intended from the beginning of December.
Note that the planes that arrived in Lipetsk are among the last three Su-35S built at the aircraft plant in Komsomolsk-on-Amur under a 2015 contract for 50 fighters and transferred to the Ministry of Defense on November 25. Another Su-35S fighter remained in the 23rd Tallinn Fighter Regiment, stationed in Komsomolsk-on-Amur.
Recall that the first contract for the supply of 48 Su-35 fighters was completed at the end of 2015, while the second contract for another 50 aircraft was signed at the same time. Thus, by the end of 2020, the Russian Aerospace Forces received 98 production multi-functional Su-35S 4 ++ generation fighters.
At the end of August this year, the United Aircraft Corporation announced a new contract for the supply of another 30 Su-35S fighters. According to reports, the first five Su-35S under this contract should be delivered to KnAAZ in 2021, the remaining 25 aircraft in 2022-2024.