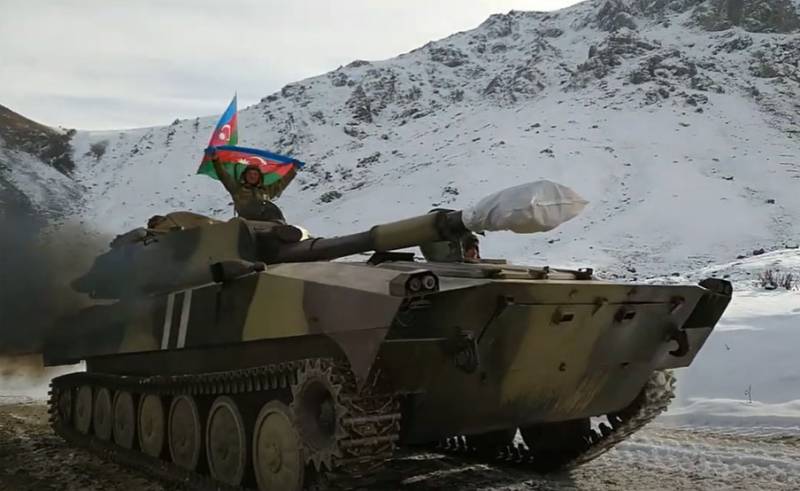 The border of Azerbaijan and Armenia is completely taken under the control of the Azerbaijani troops. We are talking about the entire length of the border section between the two Transcaucasian republics, with the exception of the so-called Lachin corridor - a section about 5 km wide that connects Stepanakert with the territory of the Republic of Armenia.
It should be reminded that earlier in Turkey they announced their readiness to send their contingent to Karabakh after the Azerbaijani-Armenian border is completely transferred under the control of the army of the Republic of Azerbaijan.
Against this background, particular attention was drawn to how the Azerbaijani troops were consolidated in the Kelbajar region. The Ministry of Defense of the republic showed footage, in which, in addition to automobile equipment, heavy military equipment is being transferred with servicemen in the direction of the Armenian border. It includes, for example, self-propelled artillery installations (ACS).
Also, in the direction of the Armenian border to the territories that came under the control of Azerbaijan
Tanks
, including T-72, BMP, several units of heavy engineering and other equipment.
The footage shows that the transfer of military equipment to the Kelbajar region was carried out with the accompaniment and monitoring of drones.
Experts note that the transfer of self-propelled guns to the Armenian border can be perceived by the Armenian side as a possible preparation for a new phase of the conflict. In turn, Azerbaijan notes that the equipment transferred to the Armenian border should become a guarantee that the conflict will not flare up.