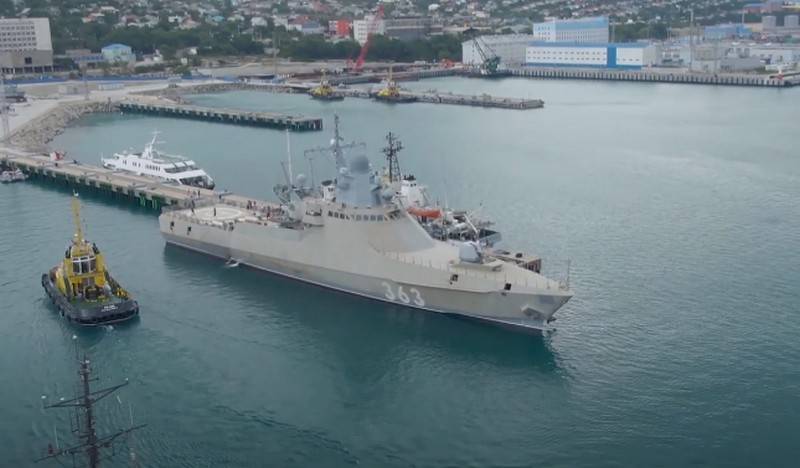 The third patrol ship of the project 22160 "Pavel Derzhavin" became part of the Black Sea
fleet
... The solemn ceremony of raising the Andreevsky flag took place today, November 27, in Novorossiysk. This was reported by the press service of the Ministry of Defense.
The ship became part of the formation of the protection of the water area of ​​the Novorossiysk naval base of the Black Sea Fleet. In the near future, the corvette crew will begin working out special coursework tasks.
Patrol ship "Pavel Derzhavin" is the third ship of Project 22160 and the second serial ship in a series of five units. The construction contract was signed in 2014, the entire series is intended for the Black Sea Fleet. The lead ship and the first serial "Vasily Bykov" and "Dmitry Rogachev" are already serving in the Black Sea Fleet.
Pavel Derzhavin is the first one built at the Kerch Shipyard Zaliv. Laid down on February 18, 2016, launched on February 21, 2019. The launch of the sea trials took place on July 23, 2020. State and factory tests of the ship took place in the military harbor of the Novorossiysk naval base and at sea ranges in the Black Sea.
The autonomy of the ships of Project 22160 is 60 days, the maximum speed is 30 knots, the crew is 80 people, the cruising range is 6 thousand miles. Armament: 57-mm artillery mount, anti-aircraft missile system, machine guns. The ship provides for the possibility of basing the Ka-27PS helicopter.