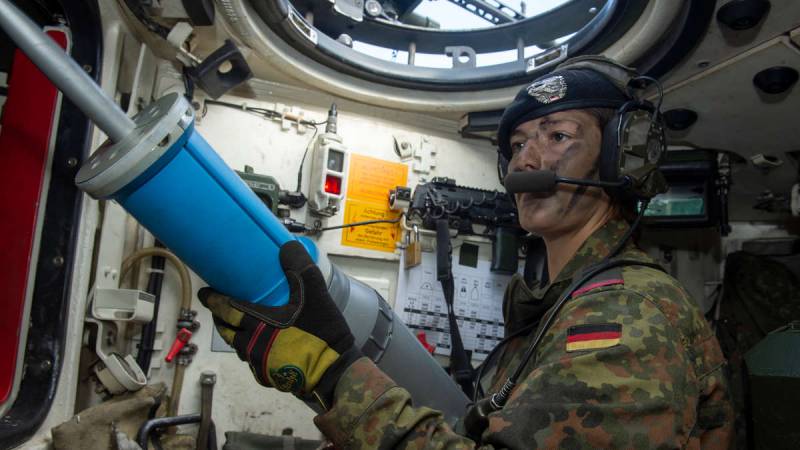 Manual loading of the cannon is traditionally the basis for criticism of the German
tank
"Leopard". As many believe, the lack of automatic delivery of the projectile to the gun negatively affects the rate of fire, not to mention the difficulties that the crew faces. However, Bundeswehr corporal Britta Frey (Fry), serving on the German MBT as a loader, is pleased with her service. She told reporters about her.
Her duties include not only loading the Leopard 2A6 gun, but also working with a 7,62 mm machine gun, if necessary, with an anti-aircraft gun. She is also responsible for radio equipment.
In principle, any crew member can become a loader. However, you should be able to equip the 23mm smoothbore cannon with 120 kg rounds.
- says the 24-year-old girl, explaining that she copes with her duties.
I like being in a battle tank for at least two weeks when there are intense classes.
Britta, the daughter of an officer, chose the military because she "wanted to do a job that was challenging not only mentally but also physically."
In my opinion, the Bundeswehr was the best choice. It is never boring because no two days are alike. In addition, you interact with people a lot, get to know a variety of characters and soon appreciate them as companions.
- explains the corporal.
She began serving at headquarters, but became disillusioned with her and transferred to the armored forces.
For me, a battle tank is an impressive place to work, impressive and unique with all its capabilities.
- says the girl.
She intends to follow in her father's footsteps and has already applied for a transfer to an officer's courses. But before starting her studies, she will have to take part in the Baltic mission. This suggests that the German Defense Ministry actually defines maneuvers and firing at the Baltic range as military practice.
What I like about the [military] operation in Lithuania is its multinationality and the ability to work with soldiers from other countries. I am looking forward to the planned large-scale exercises
- Britta concludes her interview.