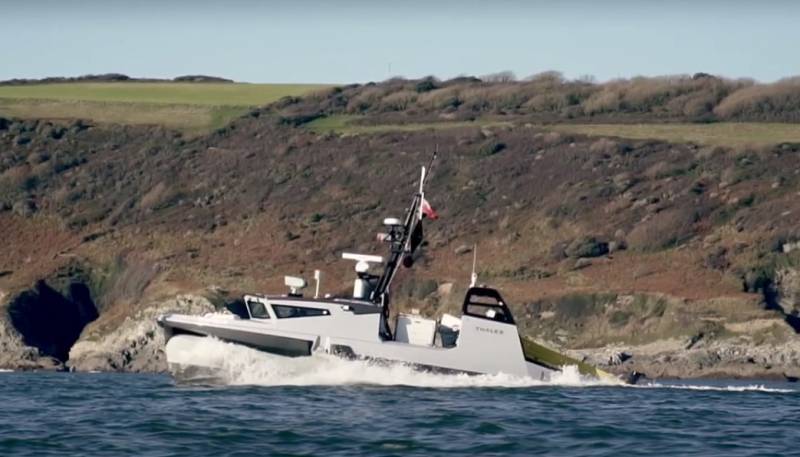 Russian Navy while upgrading its mine countermeasures
fleet
made a bet on increasing the maneuverability of the minesweeper, increasing the strength of its hull and reducing the signature. As a result, project 12700 was created, the representatives of which should become the basis of mine defense in the near sea zone as it is put into operation.
A number of unmanned aerial vehicles are on board the Alexandrites to assist the crew in trawling. At the same time, the British Navy, intending to go its own way, decided to radically approach the issue of updating its minesweepers fleet, completely depriving the anti-mine ships of the team. In other words, conventional minesweepers will be replaced by sea drones.
London has allocated 246 million dollars to start the implementation of the corresponding program. These funds provide for the purchase of three sets of equipment from the French manufacturer DE&S, each of which consists of a portable control center, an autonomous surface vessel, a towed sonar and a mine clearance system.
These systems will protect vital shipping lanes, commercial shipping and our brave personnel from deadly devices [mines]
- said Defense Secretary Ben Wallace.
The new generation complex is designed to replace autonomous systems for traditional minesweepers with a crew on board, such as the Hunt and Sandown class ships. The principle of operation of the drone is as follows: an autonomous ship is controlled from the "mother" ship or from the base. He has a sonar in tow, which is looking for mines. After their detection, a remotely controlled underwater vehicle is used to disarm the explosive device.
First Sea Lord [Chief of the Navy] Tony Radakin believes that with such equipment "mine hunting will become an order of magnitude more effective." Its tests were completed in October 2020, the first deliveries are expected at the end of 2022.