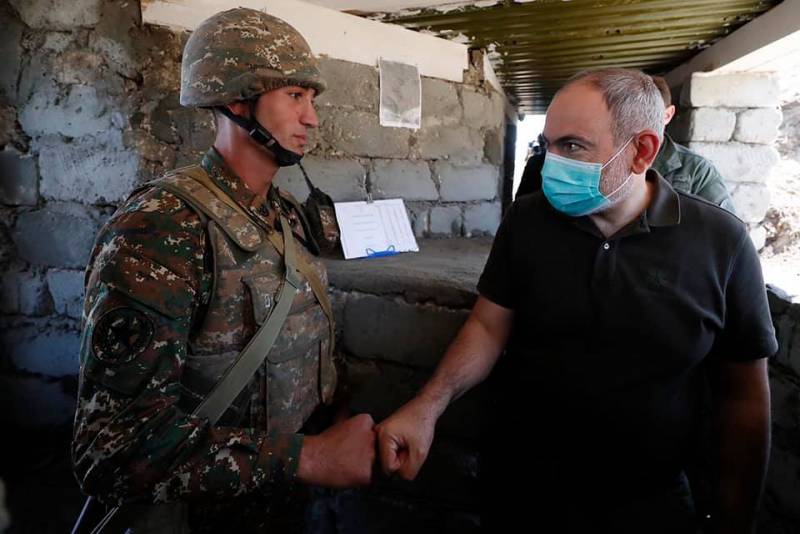 Photo from August 2020: Pashinyan in military positions in Karabakh
Armenian Prime Minister Nikol Pashinyan, on his page on the social network, shared information about a telephone conversation with the Russian president. According to Pashinyan, in the "last hour" (and this was about 2 hours Moscow time), he had a telephone conversation twice.
The Armenian Prime Minister named "the cornerstone" during the conversation. This is the issue that is connected with the settlements included in the so-called Lachin corridor, as well as with search operations in Nagorno-Karabakh, including operations to search for missing Armenian servicemen.
Pashinyan added that such topics as the deployment and demarcation of the peacekeeping contingent, and the unblocking of transport communications in the region were discussed. Apparently, we are talking about the transport corridor Turkey - Nakhichevan Autonomous Republic (Azerbaijan) - Armenia - Azerbaijan.
Nikol Pashinyan on Facebook:
Such discussions take place regularly, sometimes several times a day. These negotiations are not always reflected in official summaries because of their operational nature and frequency.
At the moment, there is no information on the Russian president's website about telephone conversations with Nikol Pashinyan.
At the same time, Pashinyan himself does not comment on why two night telephone conversations with the Russian leader were needed to discuss the above issues.
Against this background, it should be added that after the French Senate adopted a resolution on the independence of Nagorno-Karabakh, the country's government decided to deny such recognition of Artsakh.