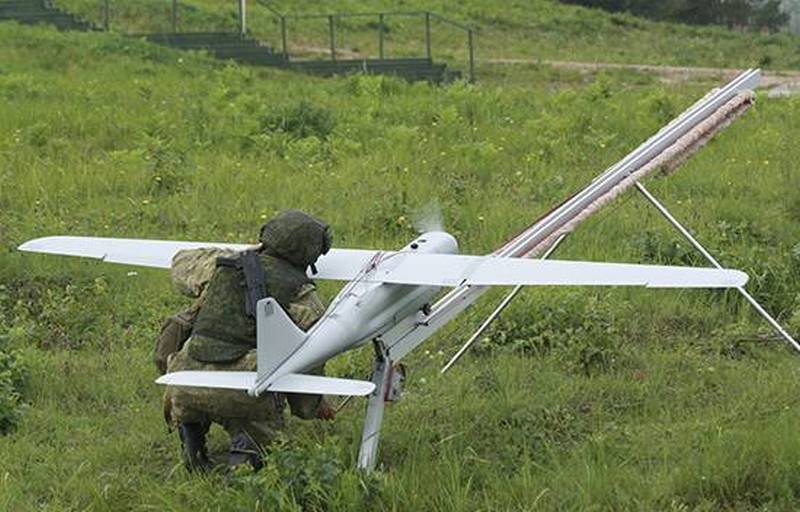 Russia has transferred to Nagorno-Karabakh the latest domestic electronic warfare (EW) complexes RB-341V "Leer-3". As reported
News
citing the military, the drones will be used as flying cell towers.
Russian peacekeepers in Nagorno-Karabakh will apply the Syrian experience of using the Leer-3 electronic warfare system, the military department explained. In Syria, the drones included in the complex were used for mass alerting the local population during humanitarian operations, sending SMS, organizing cellular communications. The drones will do the same in Nagorno-Karabakh, helping Russia to solve the humanitarian problems of the region.
The Leer-3 complex was put into service in 2015; the main task of the complex was to jam GSM cellular signals. Two years later, it was finalized, adding the ability to suppress 3G and 4G networks, and also increased the range.
The Leer-3 complex itself technically consists of one KAMAZ vehicle with the corresponding filling and two (three) Orlan-10 UAVs. Calculation of the complex - 4 people. The drone has a range of 120 km, the time spent in the air - 10 hours. Flight altitude - 5 km, speed: max - 150, cruising - 80 km / h.
The drone can carry a different load, depending on which it can perform the following actions: suppress mobile communications, simulate the operation of a cellular base station in the GSM 900, 1800, 2000, 2500 ranges and send false messages, detect phones, tablets, etc., conduct reconnaissance, plot the locations of subscriber points on a digital map, transmit data on the location of subscriber points to artillery crews for a fire strike.
Few of the electronic warfare systems can be used for peaceful purposes, but the Leer-3 is an exception. It was created to work specifically with civilian, not military networks. Therefore, we have laid down a lot of useful functions - from mass sending of SMS-messages to finding lost people. UAV is especially effective in places where coverage of mobile networks is weak or absent at all
- added military expert Dmitry Boltenkov.