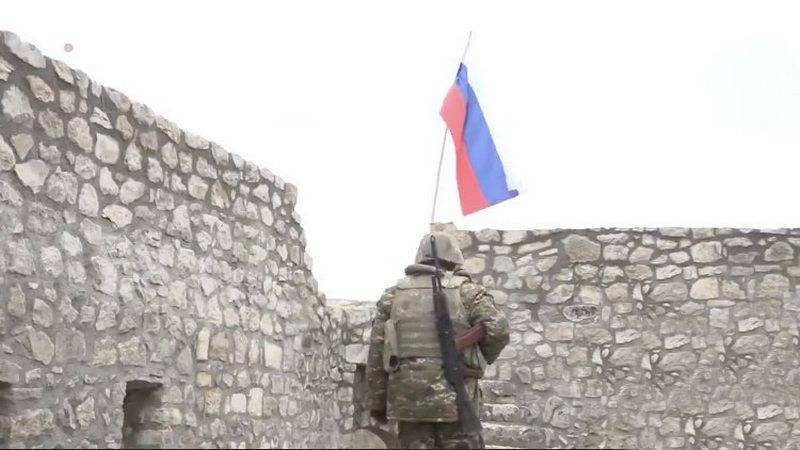 A video was posted on the Internet demonstrating the deployment of Armenian militias at one of the facilities under the jurisdiction of the Russian peacekeepers.
The video footage shows a combat post at the Amaras monastery. It was built in the southeastern part of Nagorno-Karabakh during the early Middle Ages. Currently, close to this Christian shrine is the village of Machkalashen, which belonged to the Martuni region in the unrecognized NKR.
On the footage on the outskirts of the monastery, you can see the BTR-82A / AM under the Russian flag. The peacekeepers of the 15th motorized rifle brigade are equipped with this type of armored personnel carriers, some units of which were transferred to Nagorno-Karabakh.
In addition, the Russian flag flies on the upper tiers of the monastery itself, but only militias and civilians are visible there, apparently journalists. The Armenians enter the monastery through an opening in the wall, which was made by explosives due to the insecurity of the main entrance.
No other state paraphernalia was seen on the footage - neither Armenian nor unrecognized NKR.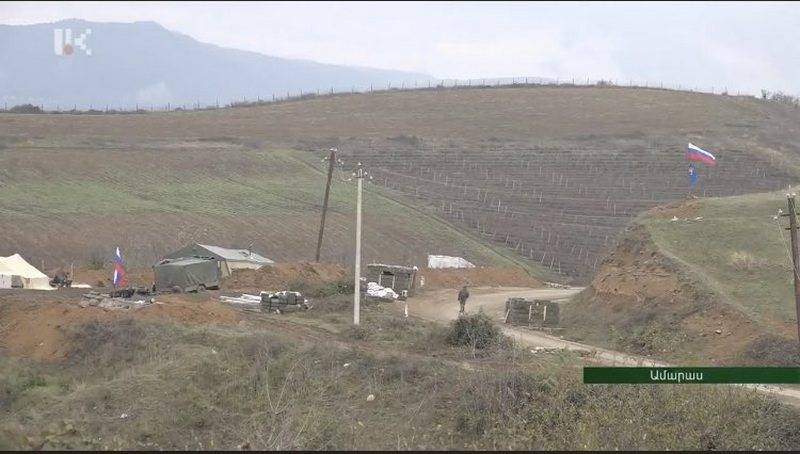 As the video explains, in order to avoid possible encroachments on this landmark, a small garrison of local militias was deployed on the approaches to the monastery and its territory under the command of the head of the village of Lernik Hovhannisyan. That is, we are not talking about professional military personnel, as it was originally assumed in the network.
According to Hovhannisyan, he himself was wounded defending Amaras during repeated attacks by Azerbaijani troops. After the ceasefire, he claims, the Azeris again tried to seize the heights near Amaras, but they repulsed the attacks and called on Russian peacekeepers. It is indicated that there were already precedents of vandalism against Christian shrines by the military controlled by Baku.
The footage captures the observation post of Russian peacekeepers, assisted by local residents. According to the tripartite agreements, "the Russian peacekeeping contingent is deployed in parallel with the withdrawal of the Armenian armed forces." The other day, an official announcement was made on the completion of the deployment of the Russian contingent.
However, local militias living in Karabakh are not servicemen of the Armenian troops and therefore were not obliged to leave the area of ​​their settlement. They have stopped armed struggle with the Azerbaijani army and are performing exclusively as a guard service, being worried about the safety of their shrines.