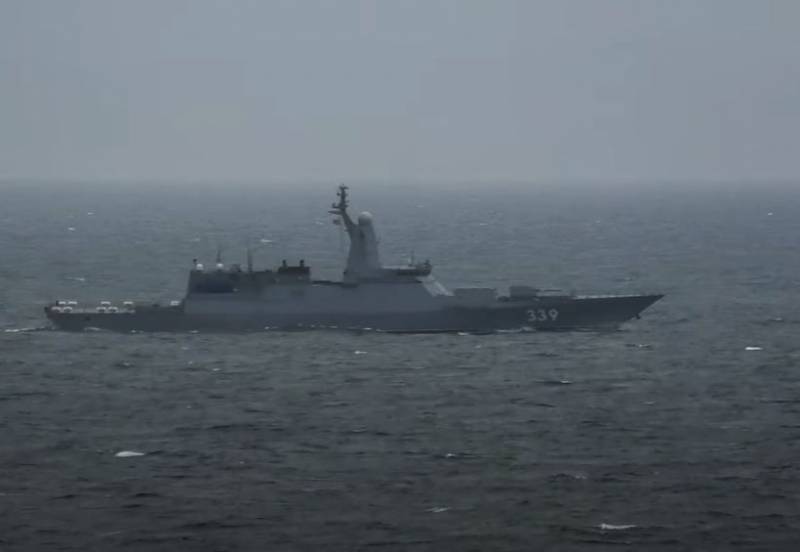 The newest corvette Aldar Tsydenzhapov continues to be tested in the Sea of ​​Japan. Press Service of the Pacific
fleet
reports that the crew of the corvette is testing the standard weapons of the warship. The day before, cruise missiles of the Uranus complex were fired, and now the crew of Aldar Tsydenzhapov was tasked with finding and destroying a simulated enemy submarine.
One of the diesel-electric submarines of the Primorsky flotilla acted as such a submarine. It is noted that with the help of on-board equipment, Aldar Tsydenzhapov carried out the classification of a diesel-electric submarine after its discovery, after which he used (for the first time for himself) the anti-submarine-anti-torpedo weapon "Package".
Apparently, we can talk about the modification of the "Package-NK" complex, which began mass production last year. This complex has a sonar, a target designation system, a control system, as well as a combat module itself, a launcher SM-588.
Complex "Packet-NK" allows you to destroy submarines in the combat zone of the ship - at distances of up to 20 km. It can also be used to destroy torpedoes attacking a warship. In this case, the maximum distance to eliminate the target is about one and a half km at a depth of up to 800 m. The ammunition used (anti-torpedo) has a caliber of 324 mm. The speed of the anti-torpedo reaches 50 knots with a designated target and 30 knots in target search mode.
It is noted that the shooting with the "Package" complex by "Aldar Tsydenzhapov" was successful, the conditional destruction of diesel-electric submarines took place.